Introduce your kids to amazing mammals.
Dolphin Park Tours Including Ticket and Transfer
Get into the fun and magical world of the cutest mammal sea creatures in the world.
Alanya Dolphin Show Price
| | |
| --- | --- |
| Tour Days | Everyday |
| Tour Duration | 4 Hours (Transport included) |
| Transfer | (Transport included) |
| Pick up Time | 09:00 and 14:00 (Twice a day) (The exact pickup time is determined by your location.) |
| Tour Begins at | 10:30 - 15:00 |
| Drop-Off Time | 12:30 - 17:30 (Approximately) |
| Instant Confirmation | Yes |
| Tour Guide | En, De, Ru, Tr |
| Included | Transfer, guide, dolphin and sea lion shows |
| Excluded | Swimming with dolphins, swimming with seals, dolphin therapy, private photo shoots, food and drink |
| Bring with You | Taking photograph is free at the dolphin show. We recommend that you take your phone or camera with you. |
Experiences of Alanya Dolphin Show
Witness the intelligence and skills of dolphins.
See the seals dance shows and listen to their songs.
Take photos with our underwater friends.
Program of Alanya Dolphin Show
Transfer from hotels.
Dolphin show.
The sea lions show.
Private photo shoots.
Exhibiting of the photographs taken.
Return to hotels with service vehicles.
Things to Keep in Mind
Unless the trainers are with you, do not touch to animals.
Please do not use a flash when taking photos to avoid disturbing our underwater friends.
Do not give them food. They are fed only fish in certain periods by the trainers.
General İnformation About Alanya Dolphin Show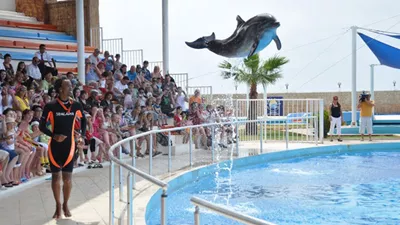 Alanya dolphin show takes an average of 1 hour. In this show, you watch maned sea lions (otaria flavescens) and bottlenose dolphins (tursiops truncatus). The show starts with sea lions. The show begins with dances and vocal performances of sea lions. The seal show takes an average of 15 minutes. Then the show continues with dolphin shows. The amazing abilities of these dolphins that have the intelligence of the three-year-old kid are shown. The show includes dolphins' double and multiple water dances, pool games, water polo and hula hoop performances, and dialogues with trainers.
The tribune is C-shaped. There is no seat number in the stands. You can sit wherever you want. The show can be seen easily from every point. It is also free to shoot photos and videos from the stands. Special photos are taken by the pool at the end of the show. You can find the photos taken after a short time in the "photoshop" section.
Don't be surprised by the excited screams of your children. Both their love for animals will increase and they will spend unforgettable minutes even when they grow up.
What are the tour times?
Dolphin show tour from Alanya is organized twice every day. It takes up to 4 hours including transportation. Tour times are as follows;
Morning tour: between 09:00 to 12:30
Afternoon tour: between 14:00 to 17:30
How long does it take to get to the dolphin park from Alanya?
Sealanya is 17 km away from the center of Alanya. Depending on the customer density, the transfer time can vary between 15 and 30 minutes. Transportation is provided by our air-conditioned shuttle vehicles.
What are the other activities in the dolphin park?
Apart from dolphin shows, there are also activities you can participate in the dolphin park. There are two main facilities in Sealanya. These are "Dolphin Park" and "Sea Park". Below we have listed all the activity sections and services of the facilities.
Dolphin Park
Dolphin and sea lions shows and events are held here
Dolphin Park Activities
Dolphin Show (you are on this page right now)
Sea Park
It is a facility consisting of fresh water and salt water pools with various fish and underwater creatures in which you can swim.
Sea Park Activities
Atlantis
Tropical Reef
Shark pool
Manta pool
Children's pool
The Sea Park tour includes all of the above Sea Park activities. Dolphin Park activities are not included. For detailed information about the tour or to make a reservation, visit our Sea Park tour from Alanya page.
Interesting facts about dolphins
Intelligence Levels: Studies have revealed that dolphins are the second most intelligent creature after human beings. Thus, they beat the monkeys in the intelligence ranking. According to New York City University research, dolphins have the intelligence level of a three-year-old child. In the same study, it was seen that dolphins recognize themselves from the mirror and even use the mirror to examine various parts of their bodies.
Communication Methods: They communicate with high sound frequencies. In addition, by listening to these frequencies that are dispersed and returned to the environment, they can learn the depth of the environment, the surface condition, other creatures in the environment and the location of their prey. They have a natural sonar system (echolocation).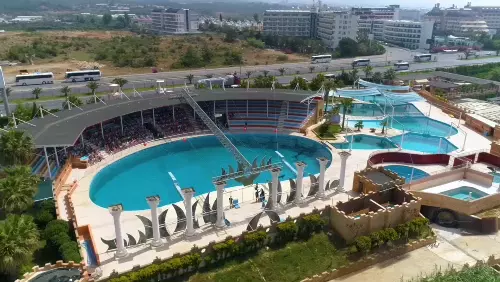 Alanya Dolphin Show Reservation Form
Fill out the form completely for Alanya Dolphin Show