Experience the Essence of Alanya's Maritime Beauty
All Alanya Boat Tours Gathered Here
From leisurely cruises to adrenaline-filled adventures, our curated collection brings you the best boat tours Alanya has to offer. Dive into unforgettable memories today!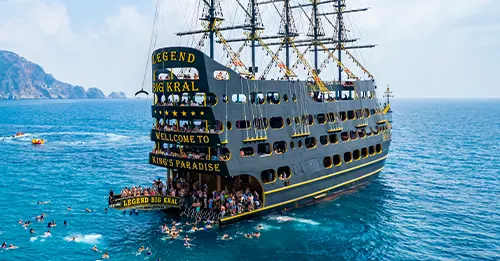 Alanya Daytime Boat Tours
Alanya Daytime Boat Tours invite you on a mesmerizing journey through the azure waters of the Mediterranean. Glide past the historic Alanya Castle, discover hidden coves, intriguing caves, and ancient landmarks. Depending on your mood, choose from lively music-filled voyages or relax and tranquil boat tours. Dive into the heart of Alanya's maritime charm and tailor your adventure, be it vibrant or peaceful.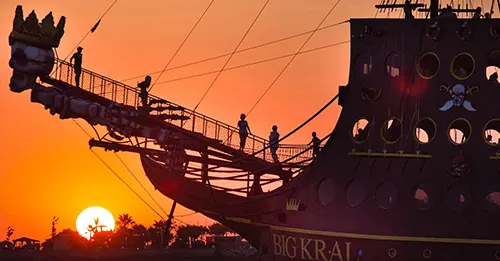 Alanya Sunset Boat Tours
Alanya Sunset Boat Tours embark around 18:00 and conclude by 22:00. These tours are abundant in activities and experiences. Start with refreshing swimming breaks during the early hours, followed by a dinner complemented by a breathtaking sunset. As the night deepens, revel in a nightclub atmosphere with a DJ-led foam party, ensuring a memorable evening on the waters.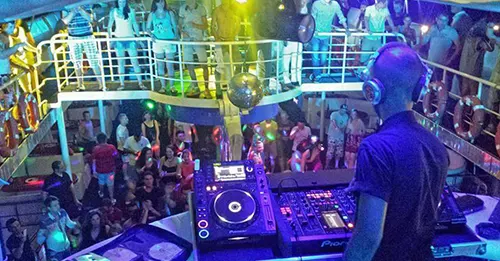 Alanya Night Party Boat Tours
Alanya's Night Party Boat Tours are an electrifying voyage into the heart of entertainment and rhythm. Imagine a floating nightclub: pulsating dance shows, mesmerizing laser displays, unmatched DJ sets, and exhilarating foam parties. Dive into an unparalleled evening of fun and energy on the water. Don't just hear about it, come and feel the beat
Alanya's Nearby Boat Tours
Embark on Alanya's Nearby Boat Tours and unlock the hidden treasures surrounding Alanya. Navigate to enchanting islands, serene bays, and mystic rivers just a short journey away. With convenient transfers (lasting between 1-3 hours), you're transported to captivating destinations like the verdant Green Canyon, the secluded Sulu Island, or the ancient allure of Side, all launched from Alanya.
Affordable Adventures on Azure Waters.
Alanya Boat Tour Prices
Experience the allure of Alanya without stretching your budget. Our Alanya boat tour prices are tailored to offer you the best maritime journey without breaking the bank.
---
Discover the diverse boat tour options in Alanya and all their details.
Choices of Boat Tours in Alanya
We simplify your boat tour choice in Alanya. Find out which boat journey resonates with your desires.
Boat tours in Alanya have evolved to cater to the diverse desires of our guests. When selecting your Alanya boat tour, it's crucial to match your expectations with the boat's theme and services. Some might opt for a lively boat experience filled with music, foam parties, and animations, while others could be seeking a serene and relaxing tour where they can bask in the sun and savor the sea.
Our website features an array of Alanya boat tours designed to satisfy every preference and budget. For instance, we offer eight distinct boat tours in Alanya that come packed with animations, music, and foam parties. The price variations among these options hinge on factors like boat size, service quality, the number of entertainers, and the demographics of the guests. Generally, tours favored by local tourists visiting Alanya from other parts of Turkey tend to be more affordable. However, the entertainment preferences of our European guests can differ from our local visitors. This distinction is certainly worth considering when choosing your boat tour in Alanya.
Below, you can dive deeper into the details and choices of boat tours in Alanya available on our website. And remember, our advisors are online 24/7 to assist you—don't hesitate to reach out for guidance!
Daytime Alanya Boat Tour Options
In Alanya, there are two main concepts for daytime boat tours. One is the relaxed Alanya boat tour, which is conducted with wooden boats that have a smaller capacity. These tours are perfect for sunbathing, swimming, and relaxation. The other popular option is the entertainment-focused boat tours. These vessels can carry anywhere from 150 to 800 people.
Keep reading to get a detailed overview of daytime Alanya boat tour options.
Daytime Pirate Ship Alanya Boat Tour

Boats styled like "Pirate ships" are among the top picks for tourists in Alanya. These vessels are typically dark-colored, resembling traditional pirate ships, adorned with pirate flags and sometimes pirate-themed decorations.

Here's what the Pirate boat tour in Alanya usually offers:

A tour of Alanya's scenic bays and caves.
Swimming breaks.
Dancing and fun with music on board.
A foam party.
Pirate-themed activities, especially for kids.
A lunch and unlimited soft drinks included in the price.

These tours typically start around 10:00 in the morning and end by 16:00. They are especially popular among families. Prices vary based on what's included, the tour duration, and boat quality.

Daytime Disco Party Alanya Boat Tour

One of Alanya's exciting activities is the daytime disco boat tours. These unique tours offer participants both the chance to swim in the Mediterranean's crystal-clear waters and to dance to energetic tunes on the boat.

This boat tour in Alanya is a hit among youngsters. With live DJ performances, colorful lights, and sometimes foam parties, it brings the nightclub vibe right in the middle of the day, on the water. The boat also stops at Alanya's stunning bays and beaches, allowing guests to enjoy the sea. Drinks are usually part of the tour price, and some tours offer unlimited local drinks. It's the go-to for those looking for a lively sea experience in Alanya.

General info about Alanya's daytime disco boat tours:

Music and Dance: As the name suggests, it's all about having a good time dancing to high-energy music played by professional DJs on the boat.
Swimming Breaks: The boat makes stops at beautiful bays and beaches around Alanya, allowing participants to swim and have fun.
Drinks: These tours usually include a certain amount of beverages in the price. Some offer unlimited local drinks, while others have a specific quota.
Atmosphere: With colorful lights decorating the boat, it reflects a nightclub's ambiance. Some tours even offer extra activities like foam parties or water fights.
Duration: These tours can last a half or full day, depending on preferences and how much time one wants to spend on the boat.
Participants: While popular among the young crowd, it's open to everyone. However, it's not recommended for those seeking a more relaxed experience.

If you're keen on experiencing a disco boat tour in Alanya, I recommend booking through our local tour operator in advance. For more specific and up-to-date info, you can also use our online reservation line.

Daytime Relaxing Alanya Boat Tour

Imagine spending a day in Alanya's crystal-clear waters, surrounded by peace, nature's sounds, and the sea's salty breeze. That's precisely the experience the relaxing Alanya boat tours offer. These tours give guests a chance to explore the Mediterranean's calm bays and untouched beaches while also providing moments of relaxation and peace.

It's an ideal choice for those who prefer staying away from crowded and energetic tours. With sunbathing areas, reading corners accompanied by soft music, and frequent swimming breaks, these tours are designed for travelers seeking a calm, peaceful, and nature-focused experience. For those wanting to explore Alanya's natural beauty and blue waters in a serene setting, the relaxing boat tours are a perfect choice.
Sunset Alanya Boat Tour Options
Alanya boat tours offer a unique experience to witness the sun setting over the clear Mediterranean waters. These sunset boat tours light up Alanya's skyline with a golden hue, allowing passengers to see the city's silhouette, including the historic landmarks like the Alanya Castle and the Red Tower.
Many boat tours in Alanya during sunset hours are enhanced with live music, local appetizers, and drink services. While some tours focus on a romantic ambiance, others might offer a more lively experience. Typically, these sunset tours start around 6:00 pm and conclude by 10:00 pm.
For the sunset Alanya boat tours, there are two primary ticket options:
Standard ticket: This includes dinner and non-alcoholic beverages.
All-inclusive ticket: With this ticket, in addition to dinner and soft drinks, unlimited beer and wine are also provided.
When exploring the sunset boat tour options in Alanya, it's wise to review the itineraries, services provided, and pricing to find the perfect fit. Detailed options are displayed on this page. Enjoying the sunset on a boat tour in Alanya promises one of the most special moments for both local and foreign visitors. Unwind from the day's hustle, relishing the sunset amidst the sea, complemented by Alanya's picturesque views.
Alanya Boat Tour Options for Night Parties
Alanya is also renowned for its vibrant nightlife, but the fun isn't limited to land. The night party boat tours in Alanya offer guests a matchless experience.
These special tours promise hours of dance, music, and entertainment on the clear Mediterranean waters. With illuminated boat decks, DJ performances, live music, cocktails, and local flavors, you can enjoy a party at sea.
Currently, the boat named "Starcraft" exclusively offers this concept in Alanya. The Night Party Alanya boat tour kicks off at 9:30 pm and wraps up around 2:00 am. Free shuttle services are provided for transfers, and the tour also includes unlimited beer and wine.
Alanya Boat Tour Options to Discover Nearby Areas
Alanya, located along Turkey's breathtaking Mediterranean coast, serves as a gateway to various sea adventures. Its strategic location allows easy access to several nearby attractions that captivate visitors with natural beauty and historical significance. Boat tours from Alanya offer a unique perspective to explore these surrounding regions, painting the turquoise waters and tracing the vestiges of ancient times.
Boat Tour in Alanya to Suluada
This journey from Alanya to Suluada is filled with natural allure. Suluada, a serene island, is known for its crystal-clear waters and mesmerizing caves. Tour attendees can indulge in a refreshing swim at the island's pristine beaches and discover the vibrant marine life.
The trip from Alanya to Adrasan takes about three and a half hours. After visiting this quaint village in Kumluca, the next destination is Suluada, just 45 minutes away by boat from Adrasan Bay. While the island doesn't host permanent settlements, it boasts several attractions like freshwater springs, bays, and caves. During the tour, there will be multiple opportunities for swimming and snorkeling at different bays of the island. Our last swimming break on the Suluada Island boat tour will be at Hacivat Bay, named after rock formations resembling traditional shadow puppet characters.
The natural beauties of Antalya are certainly worth exploring. On the Adrasan Suluada Island boat tour, you can have an amazing experience observing the stunning landscapes, swimming in diverse areas, and enjoying a special lunch prepared for the tour. Don't miss out on this exceptional boat tour in Alanya to Suluada Island!
Boat Tour in Alanya to Green Canyon
Dive into the peaceful world of the Green Canyon with this Alanya boat tour. Our Alanya boat tour takes visitors to Green Canyon, one of Turkey's most beautiful reservoirs, surrounded by lush mountains. This is the perfect Alanya boat tour for those wanting a quiet break amidst nature.
Located only 70 km from Alanya, we offer a special Alanya boat tour to Oymapınar Dam on the Manavgat River. This dam, known as the "Green Canyon", is one of the few in Turkey open for boat tours. It's a unique experience not to miss on any Alanya boat tour.
If the soothing tones of nature and endless greenery appeal to you, we invite you for an unforgettable Alanya boat tour to the calm waters of Green Canyon.
Boat Tour in Alanya to Manavgat River
Visiting Alanya for vacation? Add depth to your experience with our Alanya boat tour to the historic Manavgat River. This boat tour in Alanya is perfect for history enthusiasts and nature lovers alike.
In this Alanya boat tour, you'll get the chance to visit the Aspendos Open-Air Theatre, a gem from the Roman era. Known for its rich history and unique acoustics, it's a must-see on any Alanya boat tour.
And, let's not forget the highlight of our Alanya boat tour: the breathtaking Manavgat Waterfall. Experience the mesmerizing beauty of nature, making your boat tour in Alanya truly unforgettable.
Boat Tour in Alanya to Side
Looking for an adventure different from the typical Alanya experiences? Our Alanya boat tour to Side is perfect for you. This boat tour in Alanya combines the charm of the sea and ancient history in a spectacular blend.
Side, rich in ancient history, is a must-visit on your Alanya boat tour. Marvel at the captivating sea views and historical structures like the Temple of Apollo, making this Alanya boat tour a unique blend of history and nature.
The contrasting blue sea and historic grey stones provide perfect photo ops, ensuring that this Alanya boat tour will be a highlight of your Alanya trip.
Boat Tour in Alanya to Demre, Myra, and Kekova
This boat tour in Alanya offers a unique journey that takes you to the stunning beauties of Demre, Myra, and Kekova, promising unforgettable memories.
Kekova is home to a sunken city hidden beneath turquoise waters. During the boat tour in Alanya, you'll glimpse the remnants of this ancient city submerged by earthquakes, lying beneath the crystal-clear sea. Kekova will captivate you with both its natural beauty and its mesmerizing ancient structures.
If you're keen to explore the Mediterranean's history, nature, and culture, this boat tour in Alanya to Demre, Myra, and Kekova is a must-do experience.
Alanya Boat Tour Prices: What Affects the Cost?
When it comes to holiday experiences in Alanya, boat tours top the list for most visitors. Whether it's the allure of the turquoise waters or the promise of exploring the coastline's hidden gems, boat tours in Alanya offer a truly immersive experience. However, just like any other tourist activity, "Alanya boat tour prices" vary significantly. But what exactly causes these variations in Alanya boat tour prices? Let's delve into it.
Understanding Alanya Boat Tour Prices
Alanya boat tour prices can range from as low as 13€ to as much as 40€. Such a wide range might make you wonder: what's the difference between a 13€ tour and a 40€ one? Here are the primary factors affecting the Alanya boat tour prices:
1. Seasonal Demand:
Just like with most tourist services, Alanya boat tour prices are influenced by the time of the year. Peak tourist season often sees a hike in prices due to the increased demand. So, if you're looking to get a boat tour during the bustling summer months, expect to pay a premium.
2. Quality of the Boat:
The boat itself is a significant factor in determining the Alanya boat tour prices. A luxurious boat with modern amenities and comforts will understandably charge more than a basic boat.
3. Operational Quality:
The reputation and quality of the boat tour company play a role in Alanya boat tour prices. Companies known for their impeccable service, experienced staff, and safety records might have higher prices, but they often offer a richer experience.
4. Entertainment and Animation:
A boat tour isn't just about the journey; it's about the experience onboard. Tours offering a richer set of animations, performances, and entertainers will often have higher Alanya boat tour prices. Such tours often turn into memorable experiences with the added entertainment value.
5. Duration of the Tour:
Logically, a longer tour will cost more. If your tour lasts the entire day and covers multiple spots, it's going to have a higher price tag compared to shorter trips.
6. Food and Beverage Options:
Alanya boat tour prices can also reflect the quality and quantity of food and drinks on offer. Some tours may provide a lavish spread, with a range of beverages, while others might offer a simpler menu.
In conclusion, when evaluating Alanya boat tour prices, it's essential to consider what the price includes and what kind of experience you're seeking. While price is an important factor, the quality of the experience, the memories made, and the value obtained should always be at the forefront of your decision.
Explore Alanya by boat: Must-visit spots, activities, and ports
Alanya Boat Tours: Everything You Need to Know
Discover which boat offers the activities that best suit your interests.
Exploring Alanya by Boat Tours
Starting from Alanya's harbor, the "Alanya boat tour" offers an immersive experience. You'll witness the historic caves surrounding the fortress, the iconic Red Tower (Kızıl Kule), and the Alanya Shipyard. Moreover, these tours often pause for swimming breaks at famous bays and beaches in Alanya. Depending on your chosen boat tour in Alanya, you can indulge in various activities and entertainment, making for perfect photo opportunities.

The Red Tower and Alanya Shipyard
The Red Tower, constructed in the 13th century, gets its color from the egg yolks used in its making. It boasts an octagonal shape and stands tall at 33 meters. This majestic tower is a prominent feature of Alanya's skyline. The ground floor houses the Alanya Ethnography Museum.
The shipyard hasn't seen any boat construction or repairs for the past 60 years. It's designed with five windows and is frequented by the grand loggerhead sea turtles. Tour participants enjoy swimming in the pristine waters and often get a chance to observe these turtles up close.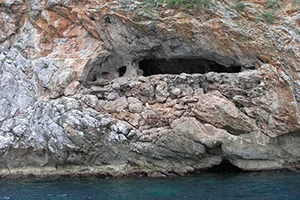 Lovers' Cave
This cave spans from one side of the Alanya peninsula to the other and has a height of 34 meters. Special shows are organized for "boat tour in Alanya" participants, both during the day and at night. In some sections, the cave's height is only 1.5 meters, requiring visitors to duck. It's not recommended for those with claustrophobia.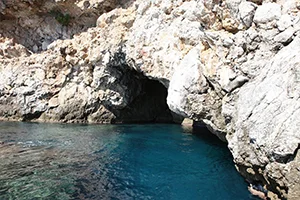 Pirates' Cave
Used by pirates in ancient times as a treasure storage, this cave has a ceiling that rises to 78 meters and features a narrow entrance. It's accessible by small boats, and the play of light inside the cave is a must-see.
Phosphorescent Cave
Located on the side of Alanya's Damlataş Beach, this natural cave is named for its phosphorescent shimmering waters. It's a favored stopover for swimming breaks during boat tours.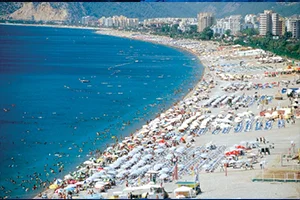 Cleopatra Beach
Ranked among the top ten beaches globally in 2018, Cleopatra Beach is Alanya's most popular beach and has consistently retained its Blue Flag status. Named after the Egyptian queen Cleopatra, it's a favorite stop for every "Alanya boat tour". Just 50 meters from the shore, boats anchor for a swimming break. Here, you can also participate in various water sports activities.
Ulaş Beach
Tucked between steep rock columns, Ulaş Beach is a hidden gem. The area around the beach boasts restaurants and picnic areas. Usually, lunch breaks during boat tours are held here. A small rock formation, situated about 40 meters off the beach, is home to seals. Your chances of spotting them are higher during sunset. The beach is generally quiet, and its clear waters are ideal for snorkeling.
Alanya Boat Tour Activities
The activities listed below are typically offered during full-day boat tours in Alanya. However, note that not all activities are available on tours that venture outside of Alanya, such as those to Demre or Manavgat, or specific tours focused on activities like diving or fishing.
Foam Parties
A highlight of the "Alanya boat tour" experience is the lively foam party. Set against the rhythm of the music, these foam parties are especially vibrant during nighttime tours, accompanied by illuminating lights and lasers. As these parties tend to be crowded, finding a dance spot might be challenging. Yet, the view of Alanya and a DJ performance in the background ensure you have a memorable time. Some boats, like the "Star Craft", even offer all-inclusive packages, which can include beverages.
Animations
Different boats have varying animation shows. For instance, pirate-themed boats feature thrilling pirate shows. Other boats might surprise you with fire displays. There are also dedicated activities for children. If you're keen on watching high-quality animation shows, choosing a larger boat with higher capacity might be the way to go for your "Boat tour in Alanya".
Dance Performances
During party hours, professional dancers complement the DJ performance, captivating the audience with their graceful moves. These dance acts can be showcased during stops at scenic locations like caves, adding an extra touch of excitement to the experience.
Water Sports
When the boat anchors at the renowned Cleopatra Beach, you'll have the chance to participate in various water sports activities. From jet skiing, banana boats, and ring rides to water skiing and parasailing, there's something for everyone. Note that these activities are not included in the standard boat tour price.
Mediterranean Dolphins, Seals, and Loggerhead Sea Turtles
One of the joys of a boat tour in Alanya is the potential to spot the local marine life. Dolphins are commonly seen in the waters around Alanya. If you're fortunate, you might also glimpse the Loggerhead sea turtles, especially during diving tours. There are also spots along the boat tour route where Mediterranean seals nest. However, these animals are protected, so remember that approaching or touching them is prohibited. Let's not forget that protecting nature is our responsibility.
Snorkeling
The clear turquoise waters of the Mediterranean will make you feel as if you're swimming in a vast aquarium. Snorkeling in these pristine waters allows you to explore the unique underwater landscape of the Mediterranean, adding another layer of adventure to your "Alanya boat tour".
Departure Points for Alanya Boat Tours
Alanya is home to two prominent yacht harbors. The Alanya Marina is located at the western entrance of Alanya and is a significant hub for yachts and marine activities. The primary port in the city center, however, is where most "Alanya boat tours" embark. A unique feature of this port is the theme-decorated boats that dock here. These boats are adorned with various visual embellishments, making them a sight to behold. At any given time, you can find nearly 100 boats of various sizes anchored in this harbor.
Visiting this harbor offers a distinct pleasure during day and night. At night, illuminated themed boats geared up for "boat tour in Alanya" night disco adventures light up the harbor. The twinkling lights from the boats, combined with lit palm trees and the neighboring nightclubs, create an electrifying atmosphere.
Being intertwined with the city, this harbor is undeniably one of the must-visit places in Alanya. Witnessing the magnificent boats, strolling along the beautiful promenade surrounded by palm trees, are some of the unforgettable experiences that the city offers.