You are the captain. We go wherever you say.
Alanya Fishing Tour While Discover Alanya Coasts
See the Alanya Castle, Shipyard and Caves. Rest at Cleopatra and Ulaş Beaches.
Alanya Fishing Tour Price
Please contact us for more different fishing tour requests. Our range of fishing boats is wide. We have amateur, semi-professional or fully professional fishing boats. Prices range from 30 € to 500 € per person
| | |
| --- | --- |
| Tour Days | Everyday |
| Tour Duration | 6 Hours (Transport included) |
| Transfer | (Transport included) |
| Pick up Time | 08:00 (The exact pickup time is determined by your location.) |
| Tour Begins at | 09:00 |
| Drop-Off Time | 14:30 (Approximately) |
| Instant Confirmation | Yes |
| Tour Guide | En, De, Ru, Tr |
| Included | Transportation, private boat with captain, lunch, soft drinks, fishing equipment and fishing rods |
| Excluded | Alcoholic beverages |
| Bring with You | Swimwear, towel, slippers, hat, sun cream, sunglasses, sea goggles, camera |
Experiences of Alanya Fishing Tour
An economical Alanya fishing tour where you can travel as you wish with your family.
You will be able to fish in the Mediterranean and either eat these fish for lunch or take them as you go.
You will be able to take a break or swim wherever you want.
Program of Alanya Fishing Tour
Since the Alanya fishing tour is organized specially for you, you determine the places to be visited and the times. We created the program below. we can change it according to your requests.
Pick up from hotels.
Visit to Alanya Shipyard where is at the port exit. Take a photo from sea toward Alanya and Red Tower landscape.
Swimming break at Shipyard bay.
Visit to Pirates Cave, Lovers Cave and Phosphorus Cave.
Swimming and photo break at Cleopatra beach.
Swimming break at Ulaş beach.
Fishing at the deep-sea of Ulaş.
Lunch break.
Fishing in the second fish pasture.
Return to the seaport and drop off to the hotels.
General İnformation About Alanya Fishing Tour
Fishing Tour Alanya
Fishing tour Alanya is one of the most fun activities you can join with your family or group in Alanya. Especially our customers who love to fish come to Alanya fishing tour more than once. Families with children can also join Alanya fishing tour.
With our transfer vehicles, we pick you up from your hotels and bring you to the seaport where the boat is located. We will go fishing for 4 hours and make a trip if desired and return to the port.
Then we'll drop you back to your hotel.
Alanya Fishing Tour Price
The Alanya fishing tour will be organized just for you.
Nobody else will exist on the boat. Alanya fishing tour times and destinations can be planned according to your wishes. As the number of participants increases, the size of the fishing boat increases.
For 1-6 people: 13 meter long boats
For more than 6 people: larger fishing boats are supplied.
In addition to Alanya fishing tour, you can visit the Alanya Castle and the famous bays of Alanya.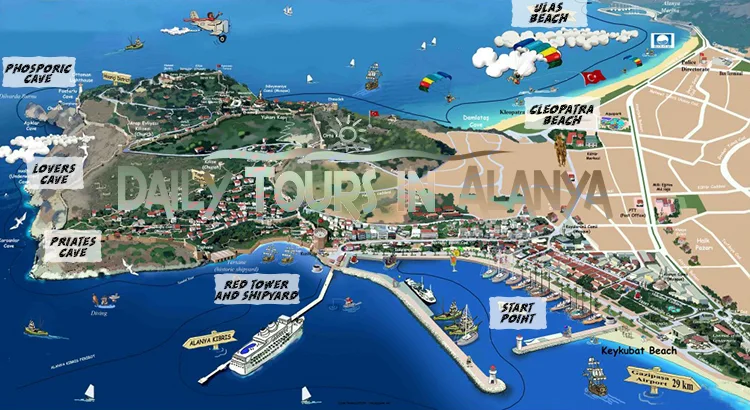 If you want, we can take a short tour around Alanya castle while sailing. We can take swimming breaks in the caves around the castle. We can visit Cleopatra beach and Ulaş beach. If you have never joined to boat tour in Alanya before, visiting these places will be a different experience for you.
Tours Alanya Fishing
Of course, our main goal is to fish. If you wish, we can never visit these sightseeing points and go directly to the fish pastures.
Fish are caught using various fishing techniques such as deep sea rod, jigging and spinning rods.
Our first fishing pasture is the open sea of Ulaş. Here, we catch an average of 1-3 kilograms of fish per person by deep sea rods. This pasture often contains "red porgy" fishs.
On the second pasture, we try to catch bigger fish. After all, we caught a lot of "red porgy" in the first pasture.
This pasture includes fish such as barracuda, leer fish, lambuka, lagos, grouper and bluefish.
Usually we can catch one or two large fish per person.
But of course we cannot fish in this pasture sometimes.
Let's say good luck.
Then we continue the hunt with jigging and spinning. We can change the fish pasture or fishing type according to your preference.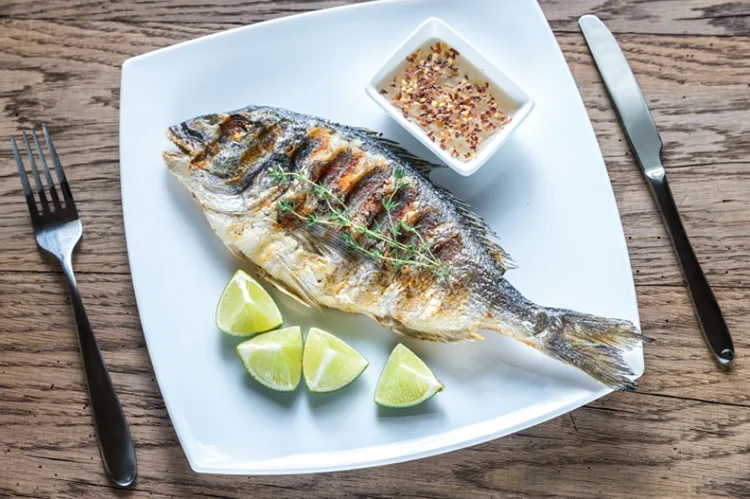 The fish you catch belong to you.
If you want, we can cook the fish you caught for lunch. Or you can take it with you as you go. Our lunch menu includes optional grilled chicken and fish, pasta and salad. Soft drinks are free during the Alanya fishing tour.
Possibility to sunbathe or swim whenever you want.
Since the Alanya fishing tour is organized specially for you, we can give you a swimming break whenever you want. Or you can sunbathe on the boat.
We go to the best fish pastures. Fishing is guaranteed.
The worst invasive species entering the Mediterranean through the Suez Canal is the puffer fish. Although this fish is valuable in countries such as Japan, it cannot find commercial value in Mediterranean countries due to the poison it contains.
Because puffer fish are usually concentrated on the coastline, we go to the open sea fish pastures. There is a fish finder radar on board.
About the fauna of Mediterranean and the changing sea ecosystem.
Alanya Fishing Tours
The Mediterranean is rich in fish diversity. However, since the Mediterranean is a salty sea, the fish population is low. Although commercial fishing has been under control in recent years, marine habitat has been severely damaged by uncontrolled commercial fishing in the past years. In addition, invasive species entering the Mediterranean from the Suez Canal in recent years have started to change the ecosystem.
It has been understood that new species entering the Mediterranean through the Suez canal cannot be prevented. In other words, the Mediterranean has now begun to undergo a change process.
It is known that the creatures in the habitats will be subject to natural selection in the next 20-30 years. In this process, the fight against invasive species such as puffer fish and sea lion has been started.
These fish species are rare in the pastures we will go to.

Next Article: Alanya Turkish Bath
Wikipedia: Alanya
Alanya Fishing Tour Reservation Form
Fill out the form completely for Alanya Fishing Tour