Pass Rivers, Muddy, Stony and Dirt Roads on Natural Safari Route
Alanya Quad Bike Safari Tour With Full of Adrenaline
Alanya quad safari tour in the foothills of the Taurus Mountains for 4 hours with adventure and adrenaline.
Alanya Quad Safari Price
Standart Ticket
Free Ride
( Ride separately from the convoy )
| | |
| --- | --- |
| Tour Days | Everyday |
| Tour Duration | 4 hours (Transport included) |
| Transfer | (Transport included) |
| Pick up Time | 08:20 - 13:20 - 15:30 (three times a day) (The exact pickup time is determined by your location.) |
| Tour Begins at | 09:30 - 14:30 - 16:30 |
| Drop-Off Time | 12:30 - 17:00 - 19:00 (Approximately) |
| Instant Confirmation | Yes |
| Tour Guide | En, De, Ru, Tr |
| Included | Insurance, transportation, protective equipments,atv training for drive, tour leader |
| Excluded | Private expences (The tour does not cover the whole day so meal is not included.), Professional Photographs, videos of the tour taht is prepeared by company, Glasses and face masks for to protection from dust.   |
| Bring with You | Drinking water, sport shoes, sun cream, hat, clothes and shoes where dirt is not a problem , bandana and glasses for protection from dust, shower gel, shapoo, back pack ( to carry your belongings) |
Experiences of Alanya Quad Safari
Use a quad bike motor on the hilly roads of the Taurus Mountains in Alanya.
Cool off in the cool waters of the Taurus Mountains with swimming breaks
Immortalize your quad safari experience in the Taurus with photo shoot breaks.
Get away from the crowds of Alanya and enjoy the pine-scented forests of the Taurus Mountains.
Program of Alanya Quad Safari
Pick-up from the hotel or your location with our shuttle vehicles
Arrival at the Alanya quad safari meeting area
Detailed instructions from guides
Distribution of necessary equipment
Test Drive
To start quad bike safari
Swimming Break
Break for photo shooting
Return to starting point
Arriving at the hotel or where you stay by being picked up by our shuttle vehicles.
General İnformation About Alanya Quad Safari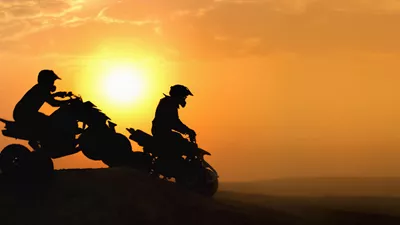 Quad Safari Alanya
Are you tired of routine holidays? Are you looking for different activities?
If your answer is "yes"; Are you ready to color your holiday with a fun 20 km track in the Taurus Mountains?
Alanya quad safari tour is the sport of adrenaline. Those whose spirit is young, those who push the boundaries, those who cannot find a holiday only in the trio of sea, beach and sun. This nature sport is just for you.
The Alanya quad safari tour is the most enjoyable way of getting dirty. Mountainous terrain, muddy, bumpy roads, dusty, watery tracks and more.
The aim is to complete the track safely by passing the muddy, steep descents and ascents, narrow pathways in our natural forest track, which is completely closed to vehicles.
Quad bike is a crazy fun land vehicle with steering wheel control, two or one person getting on, and one person can easily drive. You can use it without any difficulty due to the ease of steering wheel control. In our marvellous Alanya quad safari tour, you can ride quad bikes for 2-2.5 hours by one person. If you want to ride 2 people, an extra fee will be charged to the person who will be riding.
While experiencing the victory of fighting nature in an activity with 4-wheeled motor bikes, you also accompany the wonderful views of the Mediterranean. Moreover, on these special tracks, you will meet another side of Alanya away from the crowd of the city. While wandering in the mountains, you can cool off in the ice-cold waters of the river. Since it will remain in dust on the Alanya quad safari tours, the skin color that is present at the beginning of the tour will definitely be different at the end of the tour. Therefore, it will be an advantage for you to attend the trip with suitable clothes or to have spare clothes with you.
You can take your holiday out of the ordinary by participating in Alanya quad safari tour, you can check our page for more action.
Quad Safari Alanya Turkey
When visiting Alanya, you can take an Alanya quad safari in Turkey. The tour takes you through the picturesque Taurus Mountains, which intersect with numerous valleys. The mountains are covered in rich flora, including giant Lebanese cedars, pine trees, myrtle, and heather. If you want to experience the beauty of nature, this tour is perfect. You can book a tour online or visit the city itself to take a Alanya quad safari in Turkey.
Quad Safari Tour From Alanya
Alanya quad safari offers an off-road, exciting tour of the nature. Ride a quad through the lush forests and emerald lakes of the Alanya. The Alanya quad safari is a 1.5-hour circuit through the mountains, crossing muddy streams and juddering down dirt tracks. You can cancel your booking up to 24 hours in advance, and you will receive a full refund.
Before embarking on the actual tour, guests are given a thorough briefing on the safe operation of the quad bikes.
They then practice driving the vehicles in a practice run.
Once the participants have the hang of driving the quads, they are ready to head out on the mountainous trails.
There, the quad bikes will speed and splash through water and pine forests.
This is an exciting, yet gentle, activity that will leave you feeling exhilarated.
Quad Safari in Alanya
You can enjoy the thrill of a quad Safari in Alanya, Turkey, in less than two hours. You will be picked up from your hotel by a professional instructor, who will give you a thorough safety briefing and explain the rules of the trip. If you have never driven a quad bike before, it will not be a problem because quad bikes are designed for beginners. Once you know how to drive a quad bike, you'll be able to do it in no time!
This adventure tour is perfect for those who want a taste of real off-road riding.
It is a good way to experience Alanya's untouched nature, while also enjoying the city's exciting amenities.
Participants are picked up at their hotels, and a test drive will give them the feel of the vehicles. After that, the tour begins.
The experience is exciting for children and adults, and is sure to leave them with fond memories of a memorable time.
Alanya Quad Safari Price
If you are visiting Alanya, you cannot miss the Alanya quad safari. This adventure tour is great fun for children and adults alike. Ride on an quad through the mountainous region to get the true feel of freedom. You can choose between morning or afternoon sessions to take advantage of the natural scenery. You can see beautiful emerald lakes, canyons, and mountain rivers. Your quads will provide you with the thrill of a lifetime!
To experience the thrill of Alanya quad safari, you need to be able to spend some money.
This excursion is organized on muddy roads in the foothills of Alanya.
The whole process will take about 2 hours.
The Alanya quad safari tour will include a scenic view of Alanya. You will also receive training from experienced guides.
The price range for Alanya quad safari is around $25 for adults and $15 for children.
Alanya Quad Safari Tour
Alanya quad safari is a great way to mix up your beach holiday by experiencing a powerful adrenaline rush. Set in the mountainous Toros area near the Mediterranean, this tour takes you off-road through a wide variety of landscapes, including high mountains, gorges, and woodlands. As you race over the trails, you can capture spectacular images of the Turkish countryside and enjoy the thrill of riding an quad in its natural habitat.
The adventure begins with a pick-up from your hotel and transfer to the start of the Alanya quad safari.
Here, you'll be briefed about the various safety rules and features of the vehicle.
Then, you'll get to drive the quads through a few miles of mountain terrain to get used to them.
The best part? You don't need to be an experienced driver to take part!
Most quad bikes are easy to ride, and instructors will make sure you are safe and on track while traveling on the trails.
Quad Safari from Alanya at the Taurus Mountains
If you are interested in experiencing an adrenaline-filled tour, you should consider taking Alanya quad safari at the Taurous Mountains. The 1.5-hour tour will take you through forests, mud streams, and offbeat paths in the region. The experience ends with a drop-off at your hotel in Alanya. A local guide will accompany you on the tour. If you would like to do this activity without a guide, it is possible to cancel the tour 24 hours in advance and receive a full refund.
There are no age restrictions and it is possible for children to participate.
You can choose between afternoon and evening rides.
Children under 12 years old cannot ride the quad vehicles, but they can sit behind their parents.
The Alanya quad safari tour includes an educational session on driving, and the opportunity to purchase adventure footage afterward.
The costs for the tour depend on your group size.
For more information, check the website.
There are many ways to book Alanya quad safari tour.
If you have decided to be in this beautiful organization, it's time to find answers to your questions.
Do You Need a Driver's License to Join the Alanya quad safari Tour?
No document, driver's license required.
Do You Need Experience?
It does not require experience. It works with gas and brake, that is, a simple system. All you have to do is listen and follow the instructions given by the guide. Not knowing anything has never been this fun.
Is ıt Safe?
Do not worry! Special protective equipment required is given. 20 minutes test drive is done before starting the safari. The vehicles and the track are safe.
Could Children Join? Is There Any Age Limit?
Yes. Children under the age of 12 are prohibited from using quad vehicles and sitting forward. However, they can join this tour by sitting behind their parents.
Well, don't you want to immortalize the moment and share it on social media while having fun so much?
We have teammates for this. At the end of the Alanya quad safari tour, the adventure you have experienced during the safari will be watched in a short film format. You can buy the photo and video content you like.

Next Article: Paragliding Alanya
Wikipedia: Quad Bike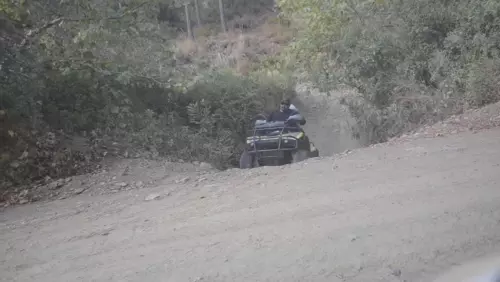 Alanya Quad Safari Reservation Form
Fill out the form completely for Alanya Quad Safari