A Unique Exploration in the Crystal Waters of the Mediterranean!
Adrasan Suluada Island Boat Tour From Alanya
Dive into Adrasan's tranquil bays as you discover the unparalleled beauties of Suluada Island; you're invited to an unforgettable sea journey!
Alanya Suluada Island Boat Tour Price
| | |
| --- | --- |
| Tour Days | Everyday |
| Tour Duration | 15 hours (Transport included) |
| Transfer | (Transport included) |
| Pick up Time | 04:20 (The exact pickup time is determined by your location.) |
| Tour Begins at | 09:30 |
| Drop-Off Time | 19:30 (Approximately) |
| Instant Confirmation | Yes |
| Tour Guide | En, De, Ru, Tr |
| Included | Comfortable transfers, Professional guiding services, Delicious lunch, Fresh fruit platter, Warm tea. |
| Excluded | Beverages, Photos taken by the boat's photographer. |
| Bring with You | Beachwear, Sun hat, Sunscreen, Camera, Comfortable sandals for island exploration, Cash for additional expenses. |
Experiences of Alanya Suluada Island Boat Tour
Feel the gentle embrace of the Mediterranean sun as you sail through its sparkling waters.
Experience the magic of Suluada, a hidden gem with pristine beaches and crystal-clear springs.
Dive into the romantic ambiance of Love Beach, an idyllic spot for couples and nature lovers.
Explore the serene beauty of Fener Koyu, a tranquil bay teeming with marine life.
Indulge in delectable local cuisines while soaking in the mesmerizing vistas of the Turkish coastline.
Program of Alanya Suluada Island Boat Tour
Your enchanting sea journey commences around 04:30 from your hotel or apartment in Alanya. Please note that the exact pickup time might vary depending on your location.
After a comfortable 3.5-hour drive in our air-conditioned vehicles, you'll find yourself embraced by the stunning seaside view of Adrasan at approximately 09:40.
Set sail into the tranquil waters of Adrasan, marking the beginning of your "Alanya Suluada Island Boat Tour".
Around 10:40, we anchor for our first swimming break at Adrasan's pristine turquoise bays. The powdery white sands and the serene waves will make you forget all about the journey.
By 12:00, the boat docks at one of Suluada Island's mesmerizing coves. Here, a delightful lunch awaits, with options of grilled chicken or fish, fresh salad, and pasta.
Post-lunch, dive into the exploration of Suluada Island's natural freshwater springs and get a closer look at the island's rich flora.
By 14:00, we navigate to the calm waters of Hacivat bay, where you can get an intimate view of the underwater world and its vibrant inhabitants.
At 15:00, we head towards the Küçük Fener bay. If luck favors, you might spot playful dolphins or the graceful Caretta Caretta turtles. Savor your last swimming break here before the end of the "Alanya Suluada Island Boat Tour".
As 15:30 approaches, the boat starts its journey back to Adrasan harbor.
Around 16:00, your return journey to Alanya begins.
By the evening, approximately at 19:30, we'll drop you off at your hotel or specified address, concluding an unforgettable day at sea.
Alanya Daytime Boat Tours
Choose your day, sunset, or night boat tour by viewing. Don't encounter a different boat at the harbor than you selected.
General İnformation About Alanya Suluada Island Boat Tour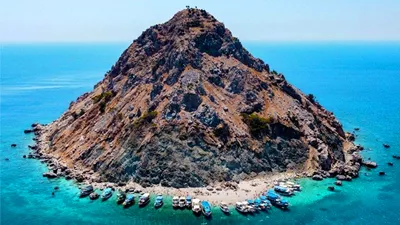 In the heart of Turkey's captivating Mediterranean coastline lies an experience that will reframe your idea of pristine beauty and adventure: the Alanya Suluada Island Boat Tour. If Alanya's sun-kissed beaches and rich historical tapestry have enthralled you, then this boat tour will elevate your Turkish escapade to a whole new dimension.
Imagine a day where the soft, salty breeze of the Mediterranean whispers tales of ancient mariners, where every ripple in the cerulean water tells a story, and where nature invites you to immerse into its untouched splendor. The Alanya Suluada Island Boat Tour is your key to this dream.
Begin with an exclusive private transfer from Alanya, allowing you to soak in the scenic transformation of landscapes during a three-and-a-half-hour journey to Adrasan. Nestled in the embrace of Kumluca, this picturesque village acts as the gateway to Suluada's magic.
What's a mere 45-minute boat ride from Adrasan unfolds like a world removed from time. Suluada, translating to 'island with water', boasts freshwater springs juxtaposed against the Mediterranean's salty vastness, making it a unique jewel in the sea. The Alanya Suluada Island Boat Tour ensures that you savor every bit of this uniqueness.
Often likened to the "Turkish Maldives", Suluada stands as a testament to nature's ability to craft perfection. The Alanya Suluada Island Boat Tour offers more than just visual treats; it's an invitation. Dive into the clear waters, feel the grainy touch of golden sands beneath your feet, explore the mysterious caves, and let the island's tranquility seep into your soul.
And as you move from one marvel to another, the journey presents myriad opportunities to engage with the vibrant marine life through swimming and snorkeling escapades. The crescendo of this tour is the visit to Hacivat Bay. Here, nature plays the artist, sculpting rocks that eerily resemble characters from ancient Turkish shadow plays.
Alanya is not just a destination; it's a melange of experiences, stories, and timeless beauty. And the Alanya Suluada Island Boat Tour encapsulates this essence like no other. As you indulge in a lavish lunch, reflecting upon the day's adventures, you'll realize that some experiences don't end; they linger, painting your memories with hues of gold and blue. This isn't just another trip; the Alanya Suluada Island Boat Tour is an emotion, a story, a moment that you'd want to live, relive, and cherish forever.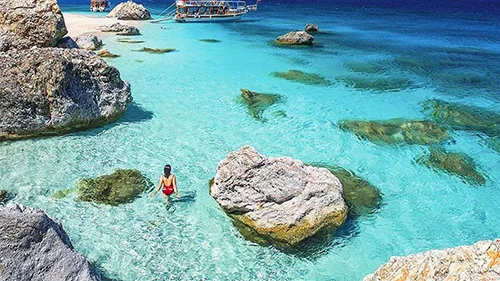 Alanya Suluada Island Boat Tour Reservation Form
Fill out the form completely for Alanya Suluada Island Boat Tour