Funny hours with Alanya's biggest boat Starcraft.
Alanya Starcraft All Inclusive Boat Tour
In the all-inclusive concept, soft drinks and hot drinks are unlimited and free.
Alanya Starcraft Boat Tour Price
Standart Ticket
FROM SIDE TO ALANYA
( Side and region )
| | |
| --- | --- |
| Tour Days | Wednesday, Saturday |
| Tour Duration | 6 Hours (Transport included) |
| Transfer | (Transport included) |
| Pick up Time | 09:30 (The exact pickup time is determined by your location.) |
| Tour Begins at | 10:00 |
| Drop-Off Time | 16:00 (Approximately) |
| Instant Confirmation | Yes |
| Tour Guide | En, De, Ru, Tr |
| Included | Insurance, hotel transfer, lunch, soft and hot drinks, animations |
| Excluded | Market, ice cream, photographer, alcoholic beverages, watersports, seabob underwater scooter |
| Bring with You | Towel, swimsuit, sunscreen, sunglasses, slippers, hat, camera, backpack (for carrying your belongings) |
Experiences of Alanya Starcraft Boat Tour
You will see the breathtaking view of the Red Tower, Old Shipyard and Alanya Castle from the sea.
Swimming in the clear and turquoise waters of the Mediterranean off the coast of Alanya.
You will visit the Pirates Cave, Lovers Cave and Phosphorus Cave, which can only be reached by boat tour around the peninsula.
Dance and foam party entertainment with DJ on a big boat.
You will participate in water sports activities and enjoy the deep sea with the Seabob scooter.
Program of Alanya Starcraft Boat Tour
Pickup from hotel or address.
Arrival at Alanya Kaleici port and boarding the boat.
Departure from the port at 10:00 am.
DJ performance begins. It continues throughout the tour.
The first swimming break is given in the bay in front of the Red Tower and the Old Shipyard.
You go around the Alanya Castle peninsula.
You visit the Lovers Cave.
An animation show is held in the Lovers' Cave. You watch this show from the boat.
You visit the Phosphorus Cave.
You feed the fish in the natural aquarium.
Second swimming break is given.
You visit the Pirates Cave.
The boat moves towards "Ulaş" bay through parallel to the coast.
The boat anchors here and the third swimming break is given.
Lunch is served here.
Entertainment continues with animation shows and dance shows.
The boat goes to Cleopatra beach.
The foam party begins.
You will have the fourth swimming break 100 meters away from Cleopatra Beach.
You return to Alanya marina.
You get on our service vehicles at the sea port and you will be dropped off at your place of stay.
Alanya Daytime Boat Tours
Choose your day, sunset, or night boat tour by viewing. Don't encounter a different boat at the harbor than you selected.
General İnformation About Alanya Starcraft Boat Tour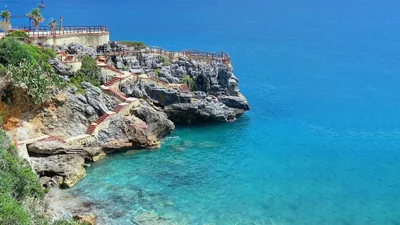 How can I get to Starcraft Boat?
Starcraft provides service in Alanya's Kaleici port. When you arrive at the port, it is impossible not to see Starcraft, nicknamed the "white pearl". The largest boat in the port can be seen easily from anywhere. If your hotel is in the center of Alanya, you can reach Starcraft by walking. However, we do not recommend you to get tired by walking in hot weather. Especially before a boat trip.
The good news is that we have free transfer vehicles for the Starcraft boat tour. Whether you are in Alanya or other towns around Alanya, we will pick you up from your hotel and bring you to Kaleici port free of charge. After the Starcraft boat tour is over, we drop you off at your hotel.
The price of the Starcraft boat tour on our website is the same as the price you will get by going to the boat. Therefore, it will be more advantageous for you to book the boat tour online and go with the transfer vehicles.
Difference of Starcraft Boat Tour from Other Boat Tours
Modern and comfortable:: Due to the fact that pirates have a great place in Alanya's maritime history, tour boats in Alanya are made of wood with the concept of pirate boats. Among the dozens of boats in the port, the only luxury boat made of fiberglass is Starcraft.
Starcraft, with its modern design, has been carefully manufactured for your comfort. The common areas, bars, toilets, showers and changing cabins on the boat are designed to be convenient and easy to access. In addition, these areas are cleaned periodically throughout the day.
Starcraft is the tour boat with the highest passenger capacity in Alanya. It can easily carry 600 people. It has 5 floors in total, including the ground floor. Each floor has different activity areas. If you like the crowd and socializing, the Starcraft boat tour will be the best choice for you.
All inclusive concept: Starcraft is one step ahead of other boat tours in terms of eating and drinking opportunities. There are two options in the all-inclusive concept.
First option

Lunch (baked chicken thigh, pasta, salad and seasonal fruit)

Second option

Lunch (baked chicken thigh, pasta, salad and seasonal fruit)
Unlimited soft drinks and hot drinks
There is also a market on the boat. Here you can buy a variety of snacks, popcorn and ice cream. You can get local and foreign alcoholic drinks and cocktails from the bars inside the boat.
The best music: Starcraft has high quality sound equipment and professional DJs. The sound quality and DJ performances on the boat are quite satisfactory. You can understand this difference much better, especially during the "disco night boat tour" at night. The pleasure of the DJ performance is enhanced by the dancers in the dance towers. The crowd on the dance floor must be the biggest proof of this.
The best Animation: Of course, there are animation shows and activities on this huge 600-person boat. Many activities such as dance shows, foam parties, jumping into the sea, seabob underwater scooter, water sports are available on the Starcraft boat tour.
In short, Starcraft means fun. If you like entertainment, music and dance, the Starcraft boat tour is one of the tours you will want to join more than once during your holiday in Alanya.
Starcraft Boat Tour Route
Like all other boat tours in Alanya, the castle surroundings are visited. In addition, reach bay is visited. Below we have listed the places to visit during the tour below.
Red Tower
Historical Alanya Shipyard
Pirates Cave
Lovers' Cave
Phosphorus Cave
Water Sports Center
Cleopatra Beach
Open Sea
Ulaş Bay
There is an expert tour guide on board. When you visit the Old Shipyard, Red Tower, Alanya Castle and caves, you will be informed about these historical places by our tour guide. Lovers Cave is 34 meters above sea level. A special show will be waiting for you in this cave.
Swimming breaks are given in front of the shipyard, at Phosphorus Cave, at Cleopatra Beach and at Ulaş Bay. The duration of each swimming break is different. There are 30, 45 and 1 hour breaks. When there is a swimming break at Cleopatra beach, an announcement is made for water sports. Those who wish can participate in many sea activities here. Water sports fee is not included in the tour price. If you are lucky, you can see sea turtles on the water surface when you take a swimming break in shipyard bay.
In addition, a Seabob underwater scooter is rented on board.
Other Starcraft Boat Tours
Starcraft organizes 3 different tours every day.
Starcraft Day Tour [You are on this page]: It is done between 10:00 – 15:30. The day tour is sea oriented. You will have a fun boat tour experience with sea activities and animations all day long.
Starcraft Sunset Tour: It is held between 17:00 and 21:00. The sunset tour is both sea and landscape focused. It is carried out in a calmer atmosphere compared to the day tour.
Starcraft Disco Night Party Tour: It is done between 21:30 and 01:00. The night tour is completely focused on music, dance and entertainment. DJ performances, dance shows, foam party with laser are the main concept of this tour.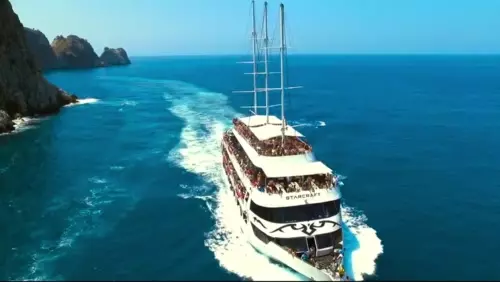 Alanya Starcraft Boat Tour Reservation Form
Fill out the form completely for Alanya Starcraft Boat Tour