Prepare to unravel the mystery of the Köprülü Canyon from Alanya
Tazı Canyon from Alanya
On our unique Tazı Canyon tour from Alanya, you'll experience the thrill of a jeep safari, encounter the unique silhouettes of the Man Rocks, and have the opportunity to get to know the history of the Selge Ancient City up close.
Tazi Canyon in Alanya Price
| | |
| --- | --- |
| Tour Days | Wednesday, Friday |
| Tour Duration | 10 hours (Transport included) |
| Transfer | (Transport included) |
| Pick up Time | 08:00 (The exact pickup time is determined by your location.) |
| Tour Begins at | 11:00 |
| Drop-Off Time | 18:00 (Approximately) |
| Instant Confirmation | Yes |
| Tour Guide | En, De, Ru, Tr |
| Included | Comfortable transportation service, insurance, guide service, delicious lunch (grilled chicken, spaghetti and Mediterranean salad) |
| Excluded | Drinks, photos and videos |
| Bring with You | Comfortable clothing, sports shoes or sandals, sunglasses, hat, sunscreen, carry cash for your additional expenses. |
Experiences of Tazi Canyon in Alanya
Enjoy breathtaking natural scenery on the (Alder) Tazi Canyon in Alanya tour.
Explore the unique beauties of Köprülü Canyon National Park with a jeep safari.
Visit Selge Ancient Theater and have an immersive historical experience.
Witness the stunning silhouettes at Man Rocks and take unforgettable photos.
Take a delightful lunch break and sample the finest flavors of Mediterranean cuisine.
Program of Tazi Canyon in Alanya
Pick up from hotels in Alanya
Jeep safari in Köprülü Canyon National Park
Visit to the historical Roman Bridge
Panoramic tour and photo break in Tazı Canyon
Lunch break
Visit to the Selge Ancient Theater
Exploration tour in Man Rocks
Drop off at hotels in Alanya
Things to Keep in Mind
Our Alanya Tazı Canyon tour is full of excitement and movement. Therefore, we recommend that you don't bring your valuable jewelry that might be at risk of being lost or dropped.
Don't forget to bring a professional camera if you have one. You'll encounter magnificent panoramic views worth capturing.
General İnformation About Tazi Canyon in Alanya
The Tazi Canyon in Alanya is not just a tour, but also a journey of discovery. We invite you to this unique place where Turkey's natural and historical riches come together.
Jeep Safari in Köprülü Canyon National Park
Köprülü Canyon National Park is the second largest canyon in Turkey. What could be better than exploring this natural wonder on a jeep safari tour? Köprülü Canyon is particularly famous for white water rafting.
The rich vegetation here allows for a peaceful journey amongst the pine and cedar trees. Additionally, if you're lucky, you might spot some wildlife!
Visit the historic Roman Bridge, located right next to the canyon. This structure dates back to the Roman Empire and is still in use today.
The park also hosts many archaeological sites and remains for history lovers. Feel the tranquility of nature as you flip through the dusty pages of history.
During the jeep safari, our guides will explain the history, geology, and vegetation of the region. Each bend brings a different view and a different story.
Tazi Canyon
Tazi Canyon is famous for its natural beauty and unique landscapes. The canyon is located between Akseki and İbradi districts, at the heart of the Taurus Mountains.
Tazi Canyon, the second longest canyon in Turkey, attracts the attention of domestic and foreign tourists with its unique natural beauty. There are a series of waterfalls and natural pools along the canyon.
Among the distinctive features of the canyon are gigantic walls and cliffs made of rocks, deep valleys, and peaks. These features allow the canyon to host various nature sports, as well as offering a magnificent view.
During the Tazi Canyon in Alanya tour, you may encounter various species of plants. Additionally, you may have the chance to observe rare and endemic species of animals.
Tazi Canyon also hosts historical and cultural values. At the entrance of the canyon, there are remnants from the Roman period and rock tombs.
Selge Antique Theater
The Selge Antique Theater is located in the Manavgat district of Antalya and has historical significance. This ancient theater dates back to the Roman era and still preserves its original architecture.
The theater's amphitheater design provides excellent sound and visibility from every seat. Gladiator fights, drama, and music shows were once held on the theater's stage.
The Selge Antique Theater enchants its visitors with its unique historical atmosphere and extraordinary views. From the high point of the theater, you can see the stunning views of the surrounding mountains and the river flowing into the valley.
The theater is also filled with a series of statues and reliefs depicting various aspects of life in ancient Rome. These works of art shed light on the daily life, religious ceremonies, and mythology of the Roman Empire. These historical remains in the Selge Antique Theater take you back in time and let you feel the magic of the ancient world.
Man Rocks
The next stop on our Tazi Canyon in Alanya tour is the Man Rocks, named for their interesting shape. The human-like shape of these rocks, which nature has formed by chance, stimulates the visitors' imagination. During our walk, you will find plenty of opportunities to take photos around the rocks.
This unique region of the Mediterranean that we will discover both its ancient history and breathtaking natural beauty during our Tazi Canyon in Alanya tour offers an experience that will be etched in your memory. Be ready to spend an unforgettable day amidst the mysterious canyons of Alanya, among historical remains and accompanied by magnificent views of nature.
The Tazi Canyon in Alanya will also introduce you to the rich biological diversity of this region, a paradise for nature lovers. Along with many endemic plant species, the rich wildlife of the region is waiting for you. You may have the opportunity to observe rare species that are unique to this region, such as the Tazi snake.
At the end of our Tazi Canyon in Alanya tour, we will bring you back to the main station in the jeep that carries all these experiences and memories, and from there, we will drop you off at your hotels or addresses with our comfortable transfer vehicles.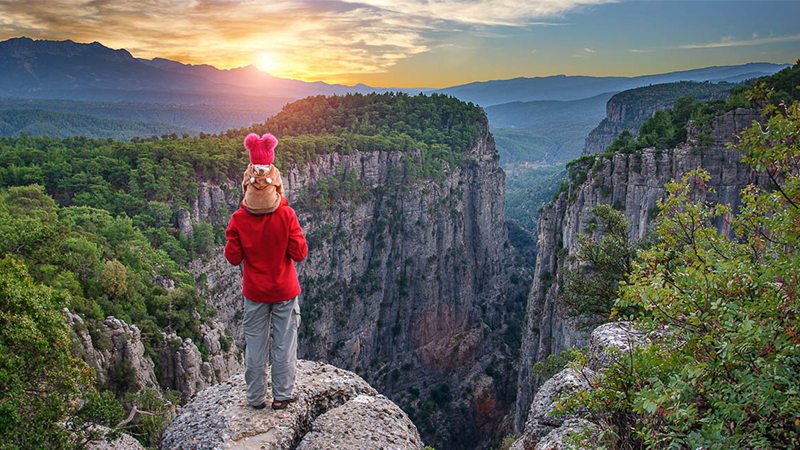 Tazi Canyon in Alanya Reservation Form
Fill out the form completely for Tazi Canyon in Alanya