Hierapolis and Pamukkale on the UNESCO World Heritage List
Pamukkale and Hierapolis Trip from Alanya
Visit One of the Oldest Thermal Cities in the World
Pamukkale Tour From Alanya Price
Standart Ticket
Red Ticket
( Pamukkale entrance ticket, lunch and dinner are included. )
Tour Days
Everyday
Tour Duration
1 Day (Transport included)
Transfer
(Transport included)
Pick up Time
03:30 (The exact pickup time is determined by your location.)
Tour Begins at
11:00
Drop-Off Time
23:00 (Approximately)
Instant Confirmation
Yes
Tour Guide
En, De, Pl, Ru
Included

Standard Ticket: Insurance, transportation, tour guide, dinner

Red Ticket: Standard ticket + Pamukkale entrance ticket + lunch

Excluded
Entrance ticket to Cleopatra Antique Pool
Bring with You
Water, hat, camera, sun cream, sunglasses, swimwear, towels, slippers, sports shoes and comfortable clothes, backpack (to carry your belongings with you), charger and powerbank
Experiences of Pamukkale Tour From Alanya
Visit Pamukkale Travertines, which were formed an average of 400,000 years ago.
Discover the Ancient City of Hierapolis, which was founded in the 2nd century BC.
Swim in the Cleopatra Antique Thermal Pool, which was formed after the earthquake in the 7th century AD.
Visit the Hierapolis Ancient Theatre, which took 150 years to build.
Program of Pamukkale Tour From Alanya
For a daily Pamukkale tour departing from Alanya, you will be picked up from your home or hotel in the early hours of the morning.
You take a break for breakfast in Korkuteli Town.
When you arrive in Pamukkale, you visit Hierapolis Ancient City as the first tour stop.
South Roman Gate in Hierapolis Ancient City, South Frontinus Gate, Gymnasium, Columned Church, Great Bath, Nymphaeum Water Tank, Cathedral, Byzantine Baths, Triton Nymphaeum, North Byzantine Gate Frontinus Road, Agora, Latrina, Zeus Temple, Ancient You will visit the Stone Mill, the Frontinus Gate, the Bath-Church, the Old Theater, the North Necropolis and the Middle Ages Seljuk Castle, accompanied by a tour guide, and you will be informed about its history.
After learning about the history and culture of the region, you will visit the white travertines where you can enjoy all the beauty of this natural wonder.
A certain time is given to swim and rest in naturally occurring pools.
You reach the hill area for photo and video shooting.
Depending on your request, you can go to Cleopatra Antique Thermal Pool. Here you will swim among historical artifacts, examine them and be refreshed in their healing waters.
You have a lunch break.
You set out to visit the Karahayıt red water travertines.
You are released by the tour guide and you enjoy the environment and heal with natural spring waters.
Pamukkale trip ends and you get on the bus.
You will set out for Alanya.
You visit the leather and textile store on the road.
You visit the onyx stone store. You have time to shop from the store.
After the store visits, you continue on the road and have a dinner break at a local restaurant.
When you arrive in Alanya, you will be dropped off at the hotel or where you are staying.
General İnformation About Pamukkale Tour From Alanya
Pamukkale tour from Alanya is a travel activity where you will witness the unique meeting of nature and history.
It is an activity that families with children can easily participate in.
You will have breakfast in Korkuteli Town, which is famous for being the only place not conquered in Anatolia.
With our expert tour guide, you will visit and explore the Ancient City of Hierapolis and learn more about its history and culture.
In the 2500 years old Pamukkale Hierapolis Ancient City, which is unique in the world; streets, gates, baths, agora, St. Philippe Martyrion Church will visit the Philippe Martyrion Church, the ancient theater, the Temple of Apollo and the Hierapolis Archeology Museum and you will be informed about its history.
Thermal waters of travertines have been a source of healing, health and beauty to visitors for centuries. Visited by the Egyptian Queen Cleopatra.
You will be able to swim in 17 different hot spring waters with temperature ranges of 35-100 ° C.
You will swim in Cleopatra Ancient Thermal Pool, which is 36 ° C every season.
There are 2000-year-old historical artifacts in the Cleopatra Pool. You will be able to view these historical artifacts and swim among them.
You will have a break for dinner on your way back from Pamukkale to Alanya.
You will visit the Karahayıt Red Water Travertines.
You will have the opportunity to shop at the Onyx Stone Store. You will be able to buy gifts and souvenirs.
You will visit Pamukkale's famous leather and textile store.
The road distance from Alanya to Pamukkale is approximately 370 km.
The journey normally takes 5 hours, but it will take about 6 hours as there will be rest and meal breaks on the road.
You can also view our
Pamukkale tour
program where you can spare more time for the places you will visit in Pamukkale and with 1 night accommodation. Hotel accommodation is included in the price.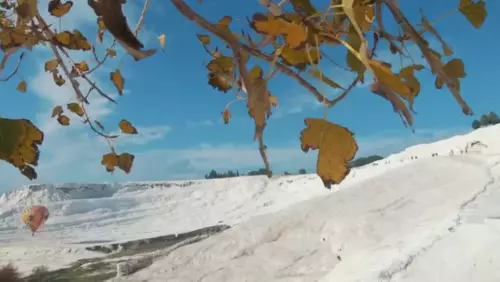 Pamukkale Tour From Alanya Reservation Form
Fill out the form completely for Pamukkale Tour From Alanya