Combined Adventure Tour of Rafting, Zipline, and Jeep Safari.
Rafting with Jeep Safari and Zipline Combo Tour in Alanya
A great opportunity to explore the Köprülü Canyon.
Rafting with Jeep Safari and Zipline in Alanya Price
| | |
| --- | --- |
| Tour Days | Monday, Wednesday, Friday |
| Tour Duration | 10 hours (Transport included) |
| Transfer | (Transport included) |
| Pick up Time | 08:00 (The exact pickup time is determined by your location.) |
| Tour Begins at | 11:00 |
| Drop-Off Time | 18:00 (Approximately) |
| Instant Confirmation | Yes |
| Tour Guide | En, De, Ru, Tr |
| Included | Included are transfers, insurance, professional guidance, lunch, and rafting equipment (except sea shoes). |
| Excluded | Drinks, photos, and videos taken by the team. |
| Bring with You | You will need sea shorts or a swimsuit, a towel, sunscreen, spare clothes, water-resistant sandals or sea shoes, and cash for extra expenses. |
Experiences of Rafting with Jeep Safari and Zipline in Alanya
Step into the mystical villages of the Toros Mountains with an unforgettable Jeep Safari tour. Explore the enchanting beauty of nature amidst cedar forests, the scent of pine, and steep cliffs.
Enjoy fun-filled water battles and swimming activities on hot days. Blend moments full of water and adrenaline.
Join an exciting rafting adventure in Manavgat and Köprüçay. Enjoy the magnificent views offered by nature while battling the currents.
Participate in the zipline activity over the river of Köprülü Canyon. Meet the cool waters of the river.
During the tour, travel back in time by learning about historical bridges and ancient remains from your guide. Witness the rich history of the Köprülü Canyon.
Program of Rafting with Jeep Safari and Zipline in Alanya
Departure from the hotel.
Arrival at the rafting gathering point in Beşkonak.
Briefing about the jeep safari provided by experienced guides.
Transportation to the starting point of the jeep safari.
Discovering historical artifacts, enchanting nature, and local lifestyle during the jeep safari.
Enjoying water battles and a thrilling jeep safari tour along the canyon.
Completion of the jeep safari tour against the backdrop of the Toros Mountains and the views of the Köprülü Canyon.
A 15-minute car journey to the historical Roman bridge and the starting point of rafting.
Distribution of rafting equipment (life jacket, helmet, paddle etc.).
Selection of 2-person canoes or 12-person boats based on personal preference.
Briefing about the rafting tour provided by professional guides.
The beginning of the rafting adventure (A guide will accompany each boat).
Tour leader's information sharing about historical sites.
A wonderful nature walk and waterfall visit in Köprülü Canyon National Park.
Photo opportunity at the historical Roman bridge.
Swimming and rest break.
Arrival at the station designated for zipline activities.
Preparation process before the zipline experience.
Detailed briefing about zipline provided by the guides.
Executing the adrenaline-filled zipline experience.
Reboarding the rafting boats and starting the second stage of the rafting adventure
Return to the rafting starting point.
Open buffet lunch service (chicken skewers, rice, pasta, seasonal salad).
Presentation of your photos and videos.
Boarding the transfer vehicles.
Return to hotels.
Things to Keep in Mind
Avoid bringing your valuable items and jewelry due to the risk of losing them.
Do not dive into the water without the permission of your guide.
Even if you are proficient in swimming, always use your safety equipment.
Remember that moving in sync enhances your enjoyment while rafting.
We advise you to bring spare clothes as your clothes will get dirty by the end of the tour.
Exciting Alanya Rafting Tours & Combos
With our tours that include rafting, step into the unique experiences waiting for you at the intersection of nature and adventure. Reserve your spot right away and don't miss out on this unique adventure!
General İnformation About Rafting with Jeep Safari and Zipline in Alanya
Jeep Safari + Zipline + Rafting Combo Tour in Alanya
In Alanya's Köprülü Canyon, get ready for an exciting day! Our combination tour awaits you with Jeep Safari, Zipline, and Rafting adventures.
Jeep Safari Tour
We start with a Jeep safari tour towards the breathtaking mountainous areas of Alanya. During this impressive safari, you will see the steep cliffs of the Taurus Mountains, cedar forests, and the local lifestyle up close.
Zipline Adventure
After the Jeep safari adventure, elevate your adrenaline level with a zipline activity waiting for you over Alanya's Köprülü Canyon. Soar freely in the air and see the unique view of the canyon from a bird's eye view.
Rafting Experience
Are you ready for a rafting adventure? We offer you an unforgettable rafting experience in Alanya's unique Köprülü Canyon. The cool waters full of currents will allow you to experience a unique adventure in nature.
At the end of this unforgettable day in Alanya, we return to our hotel. Lunch and transfer services are included in the tour price.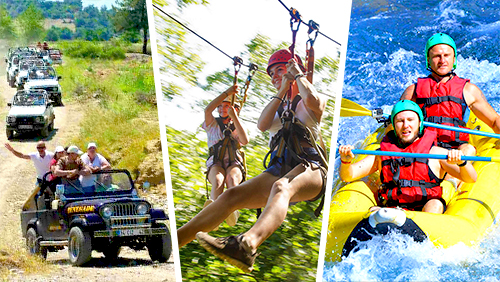 Rafting with Jeep Safari and Zipline in Alanya Reservation Form
Fill out the form completely for Rafting with Jeep Safari and Zipline in Alanya