NATURE SPORTS WITH 4*4 LAND ROVER VEHICLES AND 16-PERSON BOATS
Rafting and Jeep Safari Combo in Alanya
While exploring the stunning nature of Köprülü Canyon, you can experience an exciting Jeep safari and an adrenaline-filled rafting tour, dancing with the power of the waters - all together, economically and including meals!
Rafting with Jeep Safari in Alanya Price
| | |
| --- | --- |
| Tour Days | Monday, Wednesday, Friday |
| Tour Duration | 10 hours (Transport included) |
| Transfer | (Transport included) |
| Pick up Time | 08:00 (The exact pickup time is determined by your location.) |
| Tour Begins at | 11:00 |
| Drop-Off Time | 18:00 (Approximately) |
| Instant Confirmation | Yes |
| Tour Guide | En, De, Ru, Tr |
| Included | Comprehensive insurance, comfortable transportation, experienced tour guides, delicious lunch, life jackets, helmets, and paddles necessary for rafting. |
| Excluded | Drinks, photos and videos taken by the team. |
| Bring with You | Swimsuit, towel, sun cream, spare t-shirt, sandals or sea shoes, cash for extra expenses. If anyone wants to keep their belongings with them during rafting, they can bring a waterproof bag or phone case. We recommend you to bring spare clothes as all your clothes will be dirty at the end of the tour. Sunglasses and bandanas for protection from dust during the Jeep safari (bandanas and glasses can also be purchased from the tour guide). |
Experiences of Rafting with Jeep Safari in Alanya
Step into the mystical villages of the Taurus Mountains with an unforgettable Jeep Safari tour. Discover the enchanting beauties of nature among cedar forests, the scent of pine, and steep cliffs.
Enjoy hot days with fun water fights and swimming activities. Combine adrenaline with water-filled moments.
Join an exciting rafting adventure in Manavgat and Köprüçay. Enjoy the magnificent landscapes offered by nature while fighting the currents.
During the tour, learn about the historical bridges and ancient ruins from your guide and take a journey to the past. Witness the rich history of Köprülü Kanyon.
Program of Rafting with Jeep Safari in Alanya
Departure from the hotel.
Arrival at the rafting gathering area in Beşkonak.
Briefing about the jeep safari by experienced guides.
Arrival at the jeep safari starting point.
Opportunity to explore historical ruins, captivating natural beauty, and local lifestyle during the jeep safari.
Jeep safari tour along the canyon with thrilling water fights.
End of the jeep safari tour with a view of Köprülü Canyon, at the foothills of the Taurus Mountains.
A 15-minute vehicle ride to the historic Roman bridge, the rafting starting point.
Distribution of rafting equipment (life jacket, helmet, paddle etc.).
Distribution to 2-person canoes or 12-person boats according to your preference.
Briefing about the rafting tour by professional guides.
Start of the rafting tour (A guide will accompany each boat throughout the course).
Tour guide informing you about historical sites.
Walking in the magnificent nature of the Köprülü Canyon National Park and photo shooting in the waterfall.
Photo shoots on the historic Roman bridge.
Swimming and resting break.
Return to the rafting station.
Lunch break with open buffet service (chicken skewers, rice, pasta, seasonal salad).
Presentation of your photos and videos.
Boarding transfer vehicles.
Return to hotels.
Things to Keep in Mind
Please do not tie anything to your wrist, arm, foot, and leg. These kinds of things can create a risk of falling and tripping.
Do not jump into the water without the permission of your guide.
Even if you know how to swim, use your safety equipment.
Remember the importance of being synchronized during rafting.
We recommend not bringing your valuables as there is a risk of losing them in the water.
We advise you to bring spare clothes as all your clothes will be dirty at the end of the tour.
Exciting Alanya Rafting Tours & Combos
With our tours that include rafting, step into the unique experiences waiting for you at the intersection of nature and adventure. Reserve your spot right away and don't miss out on this unique adventure!
General İnformation About Rafting with Jeep Safari in Alanya
Pay less for more adventure! Beşkonak brings adventure lovers together on its different and fun routes in Köprülü Kanyon National Park. With our special combination package, you can participate in both rafting and jeep safari activities, thus you can make your adventure journey filled with more action.
During the Jeep Safari tour to be held in Köprülü Kanyon, you will embark on an exciting journey with 4x4 vehicles. As you proceed on mountain roads covered with cedar forests, you will inhale the scent of pines and witness the impressive landscapes of steep cliffs. You will discover the unique beauties offered by nature, away from the city. Our guides will teach you how to struggle with nature and provide information about historical places. On this tour, you will experience the importance of being in collaboration with your teammates and collect unforgettable memories.
During the rafting activity, professional guides accompanying you will give the necessary instructions and make you dance on the water. You will experience exciting moments against the currents in the enthusiastic waters of Köprülü Kanyon. You will have an unforgettable adventure accompanied by the magnificent landscapes offered by nature during this experience.
Our combo package includes lunch and transfer services. Just focus on enjoying the adventure, leave the rest to us. This special tour experience will allow you to discover natural beauties and boost your excitement with adrenaline-filled activities.
Book now for the adventure of your dreams and get ready to explore the combination of Jeep Safari and Rafting in Köprülü Kanyon!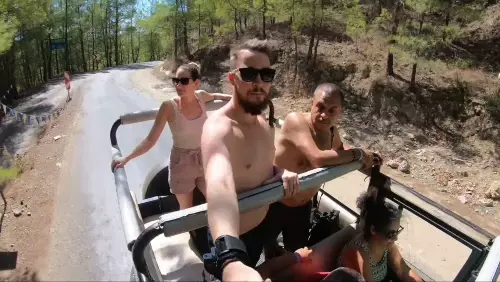 Rafting with Jeep Safari in Alanya Reservation Form
Fill out the form completely for Rafting with Jeep Safari in Alanya