QUAD BIKING AND RAFTING EXPERIENCE SIMULTANEOUSLY WITH YOU
Rafting Combo Tour with Quad Safari in Alanya
Participate in an exciting quad bike safari experience in the enchanting nature of Köprülü Canyon and dare to a rafting tour filled with adrenaline, challenging the turbulent waters of the river.
Rafting with Quad Safari in Alanya Price
| | |
| --- | --- |
| Tour Days | Monday, Wednesday, Friday |
| Tour Duration | 10 hours (Transport included) |
| Transfer | (Transport included) |
| Pick up Time | 08:00 (The exact pickup time is determined by your location.) |
| Tour Begins at | 11:00 |
| Drop-Off Time | 18:00 (Approximately) |
| Instant Confirmation | Yes |
| Tour Guide | En, De, Ru, Tr |
| Included | Our comprehensive insurance, comfortable transportation, experienced tour guides, delightful lunch, life vests, helmets, and paddles necessary for rafting are at your service. All the equipment necessary for a quad bike safari is also provided. |
| Excluded | beverages and the photos and videos taken by our team are extra. |
| Bring with You | We suggest bringing a swimsuit, towel, sunscreen, an extra t-shirt, sandals or water shoes, and cash for additional expenses. If you want to keep your personal belongings with you during rafting, you might consider bringing a waterproof bag or phone case. As all your clothes can get dirty at the end of the tour, it is advisable to bring an extra set of clothes. For protection against dust during the quad bike safari, consider bringing sunglasses and a bandana (you can also buy a bandana and sunglasses from the tour guide). |
Experiences of Rafting with Quad Safari in Alanya
An unique ATV safari and rafting experience in Alanya's captivating Köprülü Canyon.
The opportunity to explore historical relics and the breathtaking beauty of nature during the ATV safari.
An exhilarating rafting tour in the Köprülü Canyon, guided by professionals.
Moments to relax and enjoy the view after the ATV safari.
A lunch break immersed in nature after the ATV safari and rafting tour.
Program of Rafting with Quad Safari in Alanya
Departure from your hotel.
Arrival at the vibrant rafting gathering area in Beşkonak.
A detailed briefing about the ATV safari by our experienced guides.
Transportation to the exciting starting point for the ATV safari.
Exploring the historic relics, breathtaking natural beauties and vibrant local life during the ATV safari.
An adrenaline-filled ATV safari journey into the heart of the canyon.
Ending the ATV safari at the foothills of the Taurus Mountains, accompanied by the panoramic view of the Köprülü Canyon.
A 15-minute journey to the historic Roman bridge, the starting point of rafting.
Distribution of the necessary equipment for rafting (life jacket, helmet, paddle, etc.).
Choice of seating in 2-person canoes or 8-10-12-person boats.
A detailed briefing about the rafting tour by our professional guides.
Beginning of the rafting tour accompanied by our guides.
Our guides provide information about historical places during the tour.
Nature walk in the Köprülü Canyon National Park and photo shoot at the waterfall.
Photo break at the historic Roman bridge.
Swimming and resting time.
Return to the rafting station.
Open buffet lunch break (chicken skewers, rice, pasta, seasonal salad).
Display of your photos and videos.
Return to transfer vehicles.
Return to your hotel.
Things to Keep in Mind
There can be a lot of dust during the quad bike safari. If you have, bring a bandana and sunglasses. If not, don't worry, we sell bandanas and sunglasses at the station.
Please do not tie anything to your wrists, arms, feet, and legs. These types of objects can create a risk of falling and getting caught.
Do not jump into the water without the guide's permission.
Even if you know how to swim, do not neglect to use your safety equipment.
Remember the importance of synchronizing as a team while rafting.
We advise you not to bring your valuable belongings as there is a risk of losing them in the water.
Remember that all your clothes can get dirty at the end of the tour, so bring an extra set of clothes.
Exciting Alanya Rafting Tours & Combos
With our tours that include rafting, step into the unique experiences waiting for you at the intersection of nature and adventure. Reserve your spot right away and don't miss out on this unique adventure!
General İnformation About Rafting with Quad Safari in Alanya
Quad Bike Safari and Rafting Combo Tour in Koprulu Canyon, Alanya
Along with being one of the most popular holiday destinations in Turkey, Alanya also hosts breath-taking natural attractions and thrilling activities. Koprulu Canyon shines as a star among these beauties, where a quad bike safari combined with a rafting tour is one of the most sought-after experiences.
Quad Bike Safari
Quad bike safari offers an exciting way to discover the challenging and unique natural structure of Koprulu Canyon. This tour allows you to dive into the heart of the wilderness and usually lasts for several hours. The beautiful landscapes and ancient ruins of Alanya make this experience unforgettable.
Rafting Tour
Rafting is a wonderful way to freely wander in the rapid and thrilling waters of Koprulu Canyon. Rafting tours are usually accompanied by professional guides ensuring safety. This provides an excellent opportunity for everyone to try this exciting sport.
Advantages of the Combo Tour
The combination of quad bike safari and rafting tours offers an entertaining experience both on land and water. This combo tour is ideal for those with an adventurous spirit and those who want to discover the unique beauties of nature. Both quad bike safari and rafting provide high-adrenaline and fun experiences.
Lunch Break
After all these exciting activities, the lunch break of the tour is quite popular. Options are generally offered from local cuisines and experiencing all these flavors in a nature-integrated environment is a distinct pleasure.
Conclusion
The quad bike safari and rafting combo tour in Koprulu Canyon, Alanya, is a perfect choice for those who want to spend an adventurous day and discover the enchanting beauties of nature.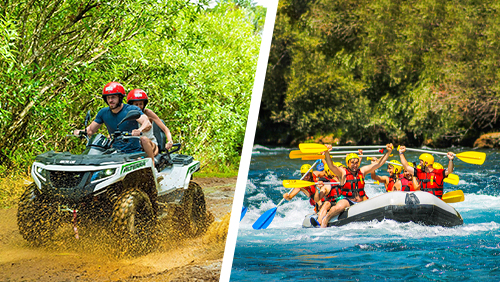 Rafting with Quad Safari in Alanya Reservation Form
Fill out the form completely for Rafting with Quad Safari in Alanya