Are you ready for an exhilarating adventure amidst Alanya's breathtaking nature?
Rafting from Alanya with Tazi Canyon, Big Zipline and Jeep Safari Combo Adventure
This unique combo package is brimming with adrenaline and awaits you!
Rafting with (Tazi)Adler Canyon, Big Zipline and Jeep Safari in Alanya Price
Standart Ticket
Zipline Included Ticket
( the longest in Europe (1960m) and the highest in the world (410m) )
| | |
| --- | --- |
| Tour Days | Monday, Wednesday, Friday |
| Tour Duration | 10 hours (Transport included) |
| Transfer | (Transport included) |
| Pick up Time | 08:00 (The exact pickup time is determined by your location.) |
| Tour Begins at | 11:00 |
| Drop-Off Time | 18:00 (Approximately) |
| Instant Confirmation | Yes |
| Tour Guide | En, De, Ru, Tr |
| Included | Our package includes transportation, insurance, expert guides for each course, lunch, and rafting equipment. |
| Excluded | We even provide optional photography and video recording by our team to capture your unforgettable moments. Drinks and the zipline activity are optional. If you wish to partake in the zipline activity, please select the "Ticket Including Zipline" option in the reservation form. |
| Bring with You | Swim shorts or a swimsuit, a camera, a hat, a towel, sunscreen, spare clothes, sports shoes and water shoes, and of course some cash for additional expenses! |
Experiences of Rafting with (Tazi)Adler Canyon, Big Zipline and Jeep Safari in Alanya
Adrenaline-Filled Zipline Activity: Push your limits with the highest zipline in the world and the longest in Europe, standing at a height of 410 meters and a length of 1960 meters.
Jeep Safari Adventure: Embark on a fun safari tour in the breathtaking nature of Alanya. Accumulate unforgettable memories accompanied by the warming sun and breeze.
(Tazi) Adler Canyon Exploration: Embark on an unforgettable excursion in one of the most impressive places in Alanya, the Tazi Canyon, located in the heart of nature.
Rafting Excitement: Hours of adrenaline-fueled fun await you with rafting in Köprülü Canyon. Have fun and cool off at the same time.
Photo Shoots: Immortalize these moments with special photos taken throughout this impressive trip.
Program of Rafting with (Tazi)Adler Canyon, Big Zipline and Jeep Safari in Alanya
We pick you up from your hotel in Alanya and take you to Köprülü Canyon to start the adventure!
After our guides prepare and inform you about the Jeep safari, we kick off the activity!
During the Jeep safari, we reveal the natural beauties and historical ruins of the region. And of course, we engage in water fights!
We arrive at the breathtaking (Tazi) Adler Canyon by Jeeps. Here, we explore the enchanting nature of the canyon and take beautiful pictures.
The most thrilling part, the zipline activity, is optional. But if you choose to participate, an adrenaline-filled experience sliding down from 410 meters high across 1960 meters awaits you!
After our canyon tour, we return to the main station by Jeeps.
After a delicious lunch, the rafting equipment is prepared, and our guides give a briefing on rafting.
After completing the first stage of the 14 km rafting adventure, we take a break for rest and swimming.
We immortalize your memories with unique photos taken at the historic Roman bridge and under the waterfall.
After the second stage of rafting begins, we return to the main station at the end of rafting.
We display and offer for sale the photos and videos taken by our team throughout the event.
After a little rest, we take you back to your hotel in our comfortable transfer vehicles.
Things to Keep in Mind
Leave your valuable items and jewelry at home. They could get lost during the river or Jeep safari activities!
Do not jump off the rafting boat without the guide's approval. Your guide will give you a swimming break in safe areas.
Even if you can swim, always wear your safety equipment!
Exciting Alanya Rafting Tours & Combos
With our tours that include rafting, step into the unique experiences waiting for you at the intersection of nature and adventure. Reserve your spot right away and don't miss out on this unique adventure!
General İnformation About Rafting with (Tazi)Adler Canyon, Big Zipline and Jeep Safari in Alanya
An Exciting Day in Alanya
(Tazi) Adler Canyon
Our first stop of the day is the Tazi Canyon, located in the heart of Alanya's extraordinary nature. This enchanting place offers you a unique experience with its distinctive beauty and serene atmosphere.
You can take a walk among the lush trees of the Tazi Canyon, listen to the songs of the exotic birds in the area. The flawless view of the canyon offers a perfect opportunity for photography.
Tazi Canyon is going to be an unforgettable experience for both local and foreign tourists. Discover this unique beauty yourself!
After our canyon tour, we are heading towards the zipline course waiting for us for a breathtaking adventure.
Big Zipline
Zipline, an adrenaline-packed adventure, is a speed experience that takes you up to 410 meters and lasts for 1960 meters. This exciting activity is an ideal choice for both adventure and nature lovers.
With the zipline, you can seize the opportunity to see the unique view of Tazi Canyon from a bird's eye view. Enjoy the taste of freedom and speed, while watching the magnificent view below.
Our zipline activity creates unforgettable memories for visitors of all ages. Experience the thrill of flying from high and observing unique views.
Jeep Safari
Our Jeep Safari tours, offering a unique adventure and fun to discover Alanya's magnificent nature. On this tour, you will explore hidden paths in the forest and untouched nature.
Along the way, you can closely see the beauty of the local flora and fauna. Our safari tour will be a unique experience for nature lovers and those seeking adventure.
At the end of our safari tour, we give a special swimming break to rest and cool off. Taking a break in the middle of nature makes this unique experience even more special.
Rafting
Rafting, an adrenaline and excitement-filled water sport, offers an unforgettable experience for visitors of all ages. As you drift on the river in Köprülü Canyon, you can enjoy the magnificent beauty of nature.
During our rafting tour, our professional guides will always be with you and provide the necessary safety information. All you need to do is to enjoy this exciting experience.
Our rafting tour is an ideal option for those who want to reach the peaks of adventure and fun. This thrilling day in Alanya will be an unforgettable memory for you.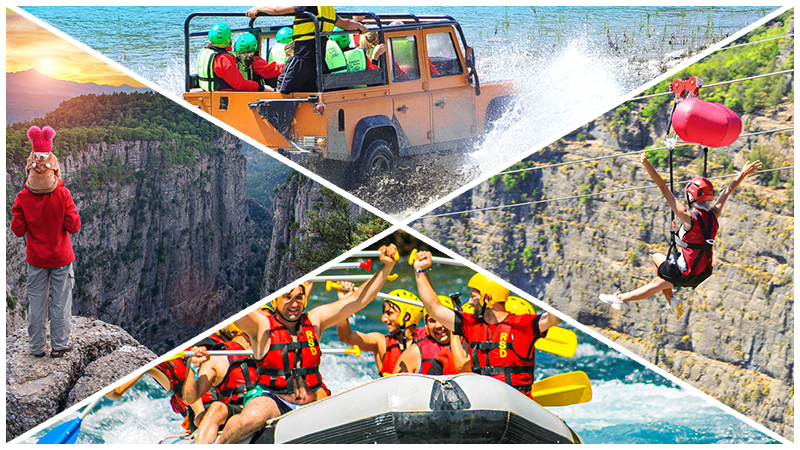 Rafting with (Tazi)Adler Canyon, Big Zipline and Jeep Safari in Alanya Reservation Form
Fill out the form completely for Rafting with (Tazi)Adler Canyon, Big Zipline and Jeep Safari in Alanya