While we are there, it would not be right to return home without going to Pamukkale.
Pamukkale, Hierapolis Ancient City and Hot Springs
We have prepared a multi-trip program where you will spend full of fun all day long.
Salda Lake From Alanya Price
Standart Ticket
Red Ticket
( Standard Ticket + Pamukkale entrance ticket. )
Tour Days
Everyday
Tour Duration
16.5 Hours (Transport included)
Transfer
(Transport included)
Pick up Time
03:00 (The exact pickup time is determined by your location.)
Tour Begins at
11:00
Drop-Off Time
23:00 (Approximately)
Instant Confirmation
Yes
Tour Guide
En, De, Pl, Ru
Included

Standard Ticket: Transfer, guide, insurance, breakfast + lunch + dinner.

Red Ticket: Standard ticket + Pamukkale entrance ticket.

Excluded
Personal expenses, entrance ticket to Cleopatra thermal spas.
Bring with You
Towel, swimsuit, hat, sunglasses, slippers, sunscreen, water, backpack (so you can carry your belongings with you), camera
Experiences of Salda Lake From Alanya
The great opportunity to see the white crater lake up close, which is only in Canada and Turkey in the world.
Take extraordinary photographs containing green, blue and white colors in Salda lake, which are also habitats for various endemic species.
Excursion in Pamukkale travertines and the privilege of entering the healing waters.
View Hierapolis Ancient City and Amphitheater.
Make a mud bath in the red colored thermal spring at 60 °C.
Visit to Karahayıt thermal springs.
Program of Salda Lake From Alanya
Pick up from hotels.
Visit to Salda Lake.
Arrival to Pamukkale and lunch break.
Hierapolis Ancient City and Ancient Amphitheater trip.
Two groups are formed as those who will go to thermal springs and those who will not.
One group goes to thermal spas and the other group goes to Pamukkale Travertines. Later, those who go to the thermal pool are joined to the pamukkale tour.
Pamukkale travertines trip.
Departure for Return to Alanya.
Dinner break in Korkuteli Town.
Return to the hotels
General İnformation About Salda Lake From Alanya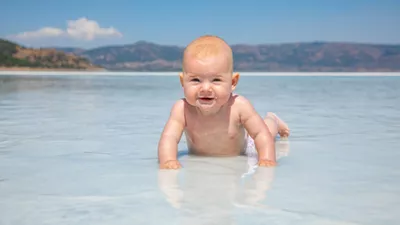 Places to Visit in Salda Lake Tour
You will not only visit Salda Lake on the Salda Lake Tour from Alanya. Of course, it is not possible to return without seeing Pamukkale while you have traveled long way from Alanya.
The places to see within the scope of Salda Lake Tour are as follows.
Below, we have explained the places where you will go detaily.
Salda Lake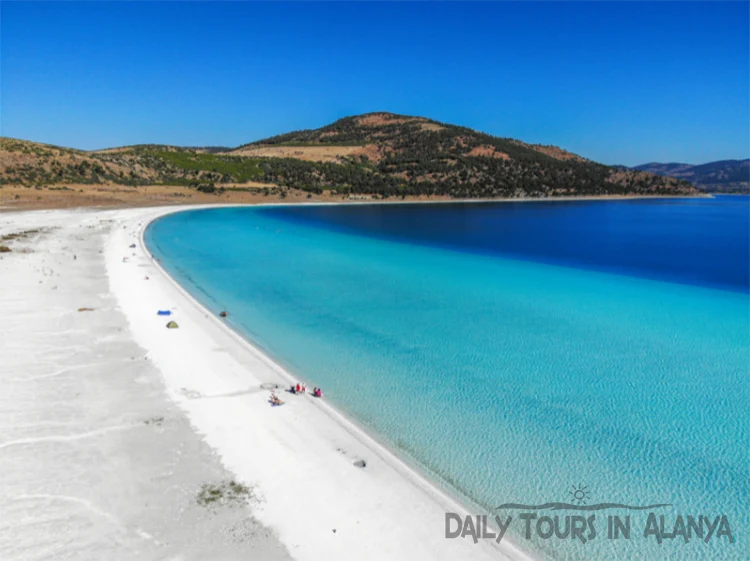 It is one of the rare crater lakes in the world, which is called the Maldives of Turkey with its turquoise water and white sand. In addition to being the clearest lake in Turkey, it is one of the most visited places in Turkey due to the visual beauty of the lake, the surrounding green nature and the endemic species living in the lake.
There is a magnificent view by the lake. Taking photos with the magnificent view of the lake is indispensable for visitors, especially in the summer when the weather is clear. There are various tourist facilities and recreation areas around the lake.
Why is Salda Lake White colour?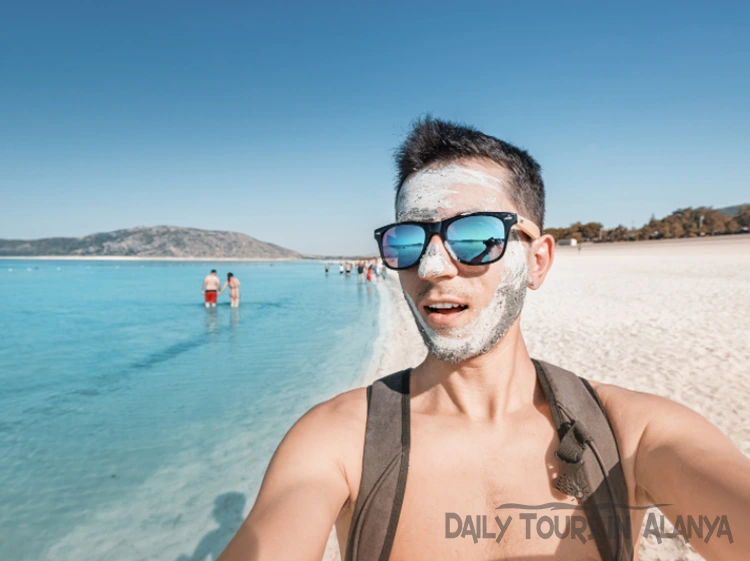 The lake is white in color due to the white-colored hydromagnetic stromatolites formed as a result of the bio-mineralization reactions of the magnesium-based minerals found in the crater lake, by the blue-green algae.
To put it more simply; The lake became white color because of the transformation of the limestones in the crater lake via blue-green algae. There are two lake in the world like this. The first of it is Salda Lake in Turkey and the other is Alchichica Lake in Canada.
Can You Swim In Salda Lake?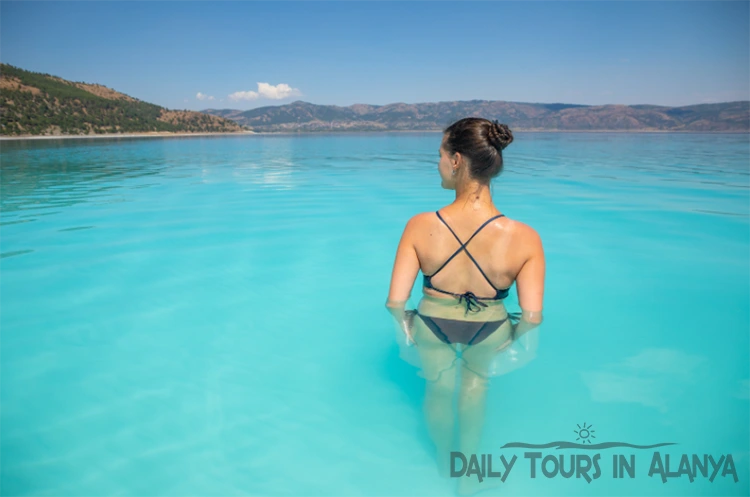 Yes, you can swim in the lake. Don't be afraid that it is one of Turkey's deepest lakes. The depth is shallow on the coastline. But you should only enter the lake from places where swimming is free. Our guides will guide you anyway.
While swimming, remember that this is a lake. In addition, because the salt content is too low buoyancy of the water here is very low. In addition, there are some swamps and loam floors are found in some areas of the lake. That's why you have to be careful while swimming in Salda Lake. You shouldn't be too far from the beach. We do not recommend those who do not know how to swim well to swim in the lake.
Relationship between Planet Mars and Lake Salda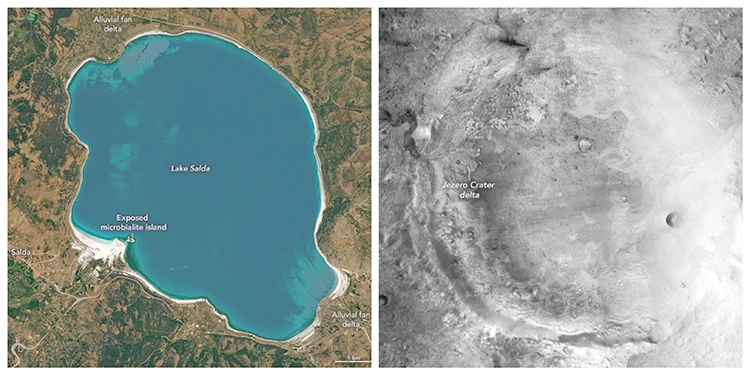 Salda lake gave scientists a clue that there was life on Mars before.
The stromatolites that give the Salda lake its white color can only be formed by simple microorganisms. Therefore, in order for a lake to be white, it must contain microorganisms. In 2019, the orbiter spacecraft sent pictures of the jezero crater on Mars. Research shows that this crater was once a lake, and that it acquired its white color thanks to the simple microorganisms that used to live here.
Is Salda Lake's Mud Good for the Skin?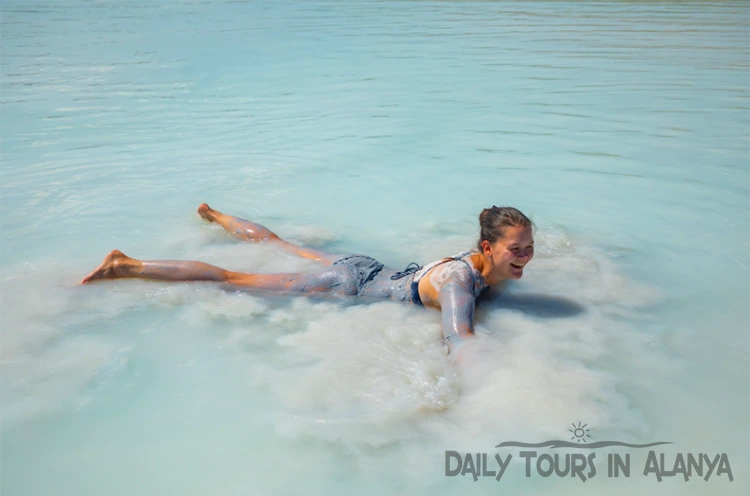 There is no scientific data or article on this subject. However, the general belief is that it softens the skin and opens the pores and is good for skin ailments such as celluloid and acne.
However, the beach was damaged due to the pits opened to the beach for mud baths. For this reason, pits opening on the coastline is prohibited in 2020.
With the lake's self-repairing of the holes, the beach was gained reinstated. We ask you to be sensitive about this issue.
Natural Features of Salda Lake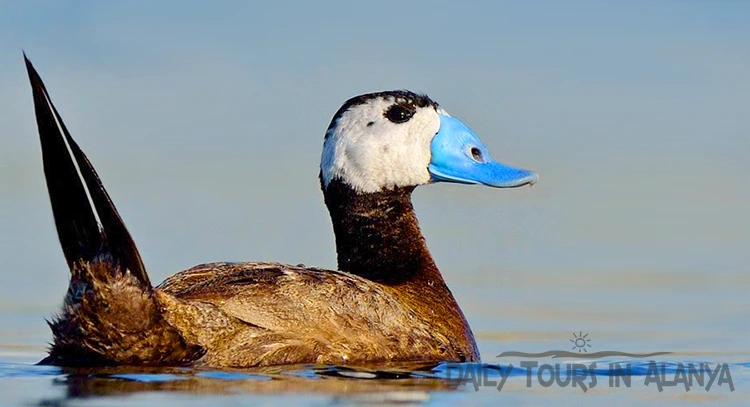 Geological Features: It is an alkaline (soda) crater lake formed by volcanic eruption an average of 2 million years ago. It is the third deepest lake in Turkey with depth of 184 meters. The lake water contains high amounts of soda, clay and magnesium. Salt ratio is very low.
Its area is 44 square kilometers and the altitude is 1140 meters. This closed basin lake, which has no connection with any rivers, was declared a second degree site in 1992 and was taken under protection.
In the last 20 years, the lake water has been drained about 6 meters due to drought. Due to the withdrawal of water, seven white-colored islands were formed in the lake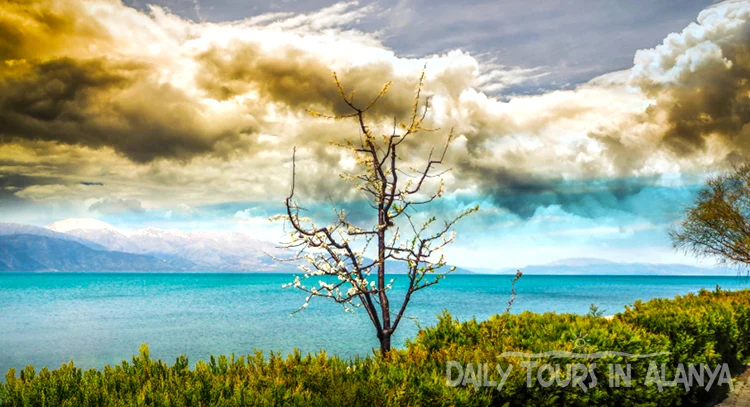 Flora: Due to the difference in the habitats around Salda Lake, there are around 300 plant species in the region. An aquatic plant "Salda Scrophulariaceae" (Verbascum Dudleyanum) is an endemic plant.
Forest vegetation is high around Salda lake. Thanks to afforestation works, forests are expanding every year. Forest flora is mostly composed of pine, juniper and oak species.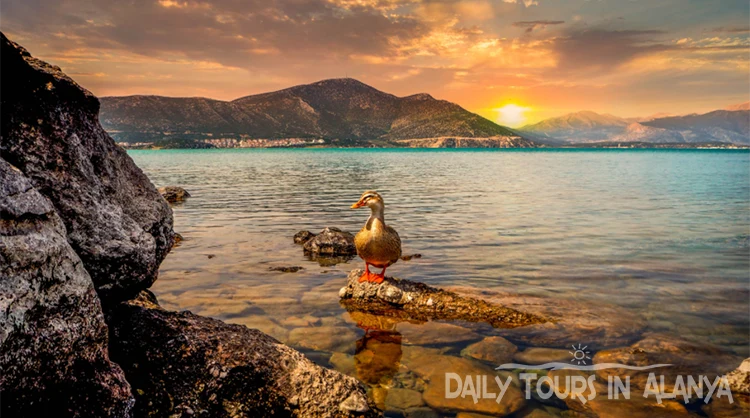 Fauna: 110 bird species live in the Salda lake habitat. 38 of them are water birds. 75 of these species have been taken under protection with the BERN contract. The most important of these is the Ruddy Duck (Oxyura leucocephala), which is endangered in the world.
In addition, around 40 bird species visit Salda Lake, which is located on the migration routes of birds, at various times of the year. The multi-eyed Anatolian white butterfly also lives only in this region.
The lake water is rich in fish diversity. In addition, three endemic fish species live in the lake.
Algae fish (Aphanius anatoliae), one of these endemic species, had been traded as aquarium fish for many years. It has been taken under protection in recent years.
How far is Salda Lake from Alanya?
The distance between Salda Lake and Alanya is 282 km. The journey takes an average of 4 hours. To go to Salda Lake, we first go from Alanya to Antalya and then follow Burdur highway. It is 5 km from the center of Burdur.
Most of the road is dual carriageway. The highway is secluded and clean. The journey is comfortable. In addition, everything has been considered for your comfort in our vehicles. The road has a sea view from Alanya until Antalya. The road between Antalya and Burdur is a pleasant road with a partial forest view.
Travertines of Pamukkale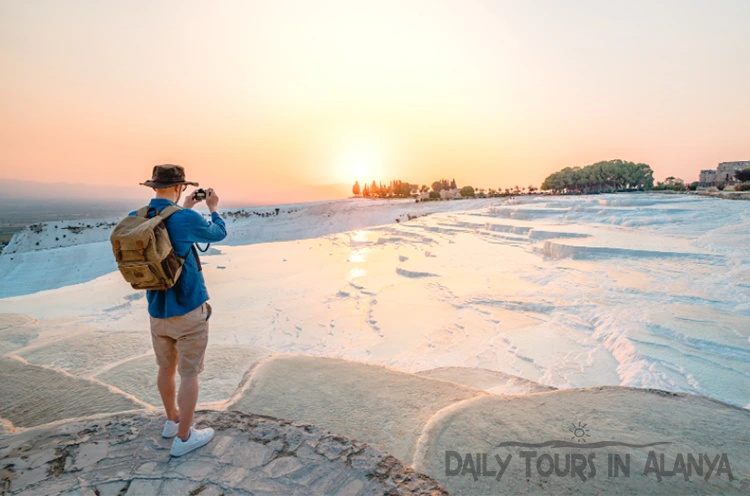 Pamukkale, which was included in the UNESCO world heritage list in 1988, is one of the unique formations in the world with its glamorous white travertines and ponds. For more information about Pamukkale, you can visit Pamukkale Tour from Alanya page.
Hierapolis Ancient City and Amphitheater
It is approximately 5 km away from Pamukkale. The City is 2000 year old. In ancient times, the region was used as a healing center. In addition, there are many temples around the city. That is why this place is called the "Holy City" in the Archeology literature.
Places you can visit in the ancient city:
Hierapolis Ancient Theater
Great Bath Complex
Frontinus Street
City Gates
Gymnasium
Triton Fountain
Apollon Sanctuary
Cathedral
Saint Philippus Martrium
Karahayıt Thermal Springs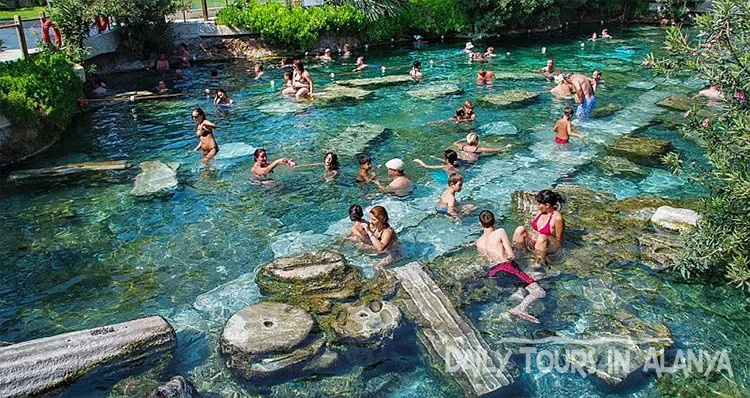 It is the richest place in Turkey in terms of thermal springs. The water temperature is 60°C in summer and winter. Water has hypothermal and hypotonic feature. The thermal springs is preferred for therapeutic purposes as the amount of calcium mineral in the water is quite high.
There are many touristic facilities around.
Red Water Mud Bath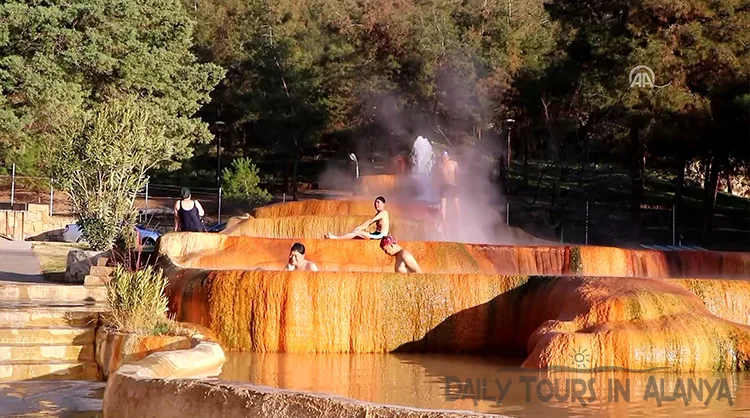 This mud bath in Karahayıt is at a temperature of 58 ° C in summer and winter and is red in color due to the rich metal minerals in the thermal springs. Its carbon dioxide ratio is very low. With the red mud bath, which is good for many diseases, you will both have a pleasant time and find health.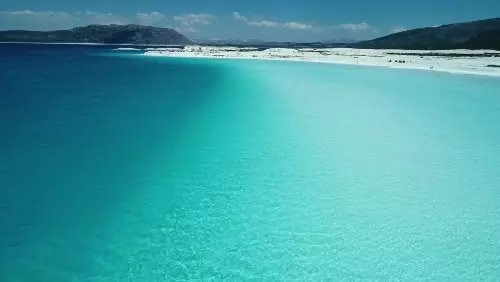 Salda Lake From Alanya Reservation Form
Fill out the form completely for Salda Lake From Alanya